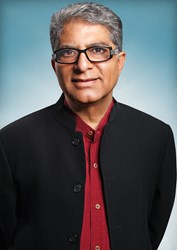 "Our intention for Spiritual Solutions is to create a spiritual workshop that addresses the specific needs and interests of the gay and lesbian communities," said Deepak Chopra.
Carlsbad, CA (PRWEB) February 17, 2014
This August 28−31, 2014, the Chopra Center for Wellbeing will present Spiritual Solutions for the Gay and Lesbian Communities, a new 4-day workshop led by Chopra Center co-founder Dr. Deepak Chopra in collaboration with inspiring teachers and spiritual leaders from the gay and lesbian communities, including Brad Gooch, John Tedstrom, August Gold, Raymond Rigoglioso, James Van Praagh, and Robert Hanson.
"Our intention for Spiritual Solutions is to create a spiritual workshop that addresses the specific needs and interests of the gay and lesbian communities," said Deepak Chopra. "This event is dear to my heart and I'm excited and honored to have the opportunity to lead this workshop with a team of such dedicated and authentic teachers and visionaries." Read Deepak Chopra's article "Next for the Gay Rights Movement" just published on the Huffington Post here.
At Spiritual Solutions, Deepak Chopra and other master educators will guide participants in timeless teachings and practical tools for breaking free from limiting beliefs and creating vibrant health, loving relationships, and success and fulfillment in every area of life.
"Spiritual Solutions opens up new perspectives on reality and the age-old questions 'Who am I?' and 'What is my purpose?' If you have been experiencing your own version of your gay mid-life crisis, you will love this. If you feel pretty solid with yourself and have processed a lot of the gay pain, Spiritual Solutions will allow you to experience yourself at an even more profound level," said John Tedstrom, who will speak at the event and is one of the country's most respected leaders on issues related to national security, global health, and community engagement.
The Chopra Center's Spiritual Solutions workshop features:

Intimate sessions and a special Q&A led by Deepak Chopra
Break-out workshops led by guest speakers (click here for a complete list of guest speakers and workshop topics)
Individual sessions for men only and for women only
Instruction in Primordial Sound Meditation
Daily yoga classes
Delicious Ayurvedic lunches and dinners
A special celebration dinner on the final evening
Special pricing expires February 28. For more information, call 888.736.6895, or learn more and register here.
About the Chopra Center for Wellbeing
The Chopra Center for Wellbeing was founded by Deepak Chopra, M.D. and David Simon, M.D. in 1996. Located in Carlsbad, California, the Center offers a wide variety of programs, retreats, and teacher training programs that integrate the healing arts of the East with the best in modern Western medicine. The Chopra Center has helped millions of people around the world find peace of mind, physical balance, and emotional healing. The website http://www.chopra.com is your starting point on the path to wellness.
About Deepak Chopra, M.D., F.A.C.P.
Founder of the Chopra Center for Wellbeing
Deepak Chopra, M.D. is the author of more than 75 books, including numerous New York Times bestsellers. His medical training is in internal medicine and endocrinology, and he is a Fellow of the American College of Physicians, a member of the American Association of Clinical Endocrinologists, and an adjunct professor of Executive Programs at the Kellogg School of Management at Northwestern University. He is also an adjunct professor at Columbia Business School, Columbia University, and a Senior Scientist at the Gallup organization. For more than a decade, he has participated as a lecturer at the Update in Internal Medicine, an annual event sponsored by Harvard Medical School's Department of Continuing Education and the Department of Medicine, Beth Israel Deaconess Medical Center.