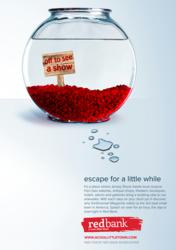 "Red Bank has so much to offer and it truly is a place that people can escape to for an hour, a day or even overnight."
Anthony Torre, Spitball Founding Partner
Red Bank, NJ (PRWEB) October 06, 2012
Red Bank RiverCenter today announced the launch of their new marketing campaign. This new campaign will be central in RiverCenter's and the Visitors Center's efforts in driving tourism to Red Bank.
"This is an important step for us and a major undertaking that we're really excited about," said Nancy Adams, Executive Director of Red Bank RiverCenter. "We have been utilizing the Only One branding for four years and felt it was time for a change. Our town is on the upswing with a number of new merchants and our events have been bringing in record-breaking crowds. We were looking for something that was fresh and stood out while presenting the various and diverse lifestyle options that Red Bank offers."
The ad campaign features the message of "Escape for a Little While" that depict everyday scenarios in which a common item has escaped to Red Bank. The lead advertisement creatively depicts a fish leaving its bowl to go see a show. Additional iterations of the campaign are set to launch in the coming weeks that focus on the various Red Bank offerings.
Red Bank RiverCenter tapped hot Red Bank agency Spitball to spearhead the creative and media duties. "This campaign was about a year in the making," said Anthony Torre, Founding Partner and Chief Marketing Officer of Spitball. "We were sure to speak to visitors, business owners as well as analyze local and global tourism campaigns. Our creative process hit across six viable campaign directions and we are thrilled with what our talented team came up with and what the client ultimately selected."
"Red Bank has so much to offer and it truly is a place that people can escape to for an hour, a day or even overnight - which is the heart of the campaign message," Torre added. "The team wanted the visuals to break from the traditional imagery to create stopping power, help make the ads memorable and drive home the campaign message."
In addition to the campaign, Spitball has developed a new tagline for the town.
"During our research, we talked to those who have visited Red Bank in the past year and asked them what they thought of when they heard of Red Bank" said Torre. "More often than not, their answer was some form of 'It's a Cool Little Town.' From there, we knew we were onto something. We loved the fact that it was succinct and perfectly captured the vibe we were going for." The new logo and tagline will be used on all Red Bank materials immediately.
The campaign will be supported in print, digital and outdoor media. In addition, Red Bank RiverCenter events will also follow the campaign look and feel. "One of our main goal was to have a unified presentation for Red Bank," said Adams. "For too long we have had multiple identities and now we are rooted in 'A Cool Little Town'. When people see our ads or other materials, they will instantly know that it is from Red Bank."
-------------------------------
Red Bank RiverCenter is a not-for-profit alliance of downtown businesses and property owners working toward the economic vitality of Red Bank.  For more information about RiverCenter please visit the website at http://www.acoollittletown.com or call (732) 842-4244.
Spitball Advertising was formed in 2006 in Red Bank, NJ as a full service marketing and design agency. Their main philosophy is to pelt the walls with the most innovative yet strategic ideas to see what sticks then deliver these programs to clients looking to break through the clutter to reach their customers. Spitball enjoys crafting Ideas That Stick™ for Cholula Hot Sauce, iCIMS, Unilever, Reproductive Medicine Associates, Fundtech, Atlantic City and other creative-focused companies.