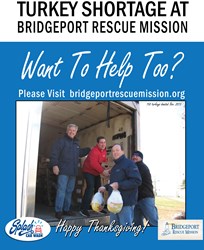 (PRWEB) November 27, 2013
Thanksgiving is one of the most celebrated holidays in the U.S. Gift-giving became a tradition among family members, friends and business associates and it carries a strong message of appreciation. Gift cards, Thank You notes and personalized gifts has more personal touch at Thanksgiving than Christmas or other holidays.
But Bridgeport Rescue Mission has something else on their sleeves. This year, they are seeking donations of frozen turkeys to help needy families prepare a traditional Thanksgiving dinner. One of their biggest donors is Splash Car Wash Bridgeport. This past week Splash Car Wash added to the growing contributions with 150 turkeys dropped directly to their Donation Center at 1069 Connecticut Ave., Bridgeport, Unit 2A.
The turkeys will be included in more than 4,000 Thanksgiving dinner pantry boxes the mission will distribute to near-homeless and impoverished families in Bridgeport and South Norwalk. Bridgeport Rescue Mission's The Great Thanksgiving Project also involves a donation drive for pre-owned winter coats for men, women and children. The goal is 15,000 winter coats to make the community outreach event successful.
Another way to help is by forming a Turkey Team where the group can donate virtual turkeys online for $20 each.
About Bridgeport Rescue Mission: Bridgeport Rescue Mission fights poverty from the inside out by embracing the urban poor and addicted with the compassion of Christ, offering hope and healing for a changed life. Founded in 1993 to address the issues of hunger, homelessness and addiction in coastal Fairfield County.