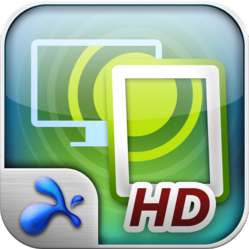 San Jose, CA (PRWEB) September 04, 2012
Splashtop Inc., the worldwide leader in cross-device computing, today announced that a full-version of its award-winning Splashtop Remote Desktop HD is pre-bundled on all Fujitsu STYLISTIC M532 Android business slates. With the Splashtop app, users can easily create personal clouds to remotely access files and content on any computer from a STYLISTIC M532 Android slate.
"We're delighted to work with Fujitsu to equip their users with our award-winning Splashtop app, the best performing and most popular remote desktop app on Google Play and the App Store" said Mark Lee, CEO of Splashtop.
"Fujitsu is excited to provide our STYLISTIC M532 Android business slate users with Splashtop Remote Desktop HD so that they can access and stream content from their computers," said Mr. Raymond Foo, Senior Vice President, Marketing and Business Development, Fujitsu PC Asia Pacific Pte Ltd. "Now mobile executives can work freely on Word, Excel and PowerPoint documents, and enjoy movies, videos -- everything that's on their computer, anytime and everywhere."
The Fujitsu STYLISTIC M532 is an Android 4.0 business slate with an NVIDIA® Tegra 3 quad core processor with Quad Core ARM® T30s CPU 1.4GHz and a 10.1" SuperFine TFT IPS, 10 points Touch screen (1280 x 800 pixels) with Anti-Scratch Protective Glass.
Fujitsu STYLISTIC M532 Android slates will be available in the Asia Pacific region with the pre-bundled version of Splashtop Remote Desktop HD. The Splashtop app is pre-installed and provided at no cost to STYLISTIC M532 users.
Splashtop Remote Desktop HD requires the downloading of the free Splashtop Streamer software at http://www.splashtop.com/streamer and installation onto a Window PC or a Mac. Supported platforms are: Windows 7, Vista, and XP (including Home Premium), Mac OS X 10.6+ (Snow Leopard or Lion is required for Mac users). A computer with dual-core CPU is recommended for best performance.
About Splashtop Inc.
Splashtop aspires to touch people's lives by delivering the best-in-class remote desktop experience – bridging tablets, phones, computers and TVs. Splashtop technology empowers consumer and business users with high-performance, secure, interactive access to their favorite applications, media content and files anytime, anywhere.
Splashtop's products are top-selling apps on Apple App Store, Google Play, Amazon Appstore for Android, Nook Apps, BlackBerry App World, HP App Catalog, Lenovo App Shop and others. More than seven million people have downloaded Splashtop products from app stores, and more than 100 million devices from HP, Lenovo, Dell, Acer, Sony, Asus, Toshiba, Intel and other partners have shipped with Splashtop.
The consumerization of IT and proliferation of mobile devices is leading to adoption of Splashtop by businesses. The Splashtop Bridging Cloud™ ensures reliable, secure and high performance connectivity across multiple devices, while offering IT, system integrators and service providers policy-driven control.
Splashtop has won the prestigious "Most Innovative Product" award from PC World, the "Best of What's New" award from Popular Science and the "Best of 2012 CES" award from LAPTOP Magazine. The company is headquartered in San Jose with offices in Beijing, Hangzhou, Shanghai, Taipei and Tokyo. For more information, visit http://www.splashtop.com.
About Fujitsu PC Asia Pacific
Fujitsu PC Asia Pacific is the Asia Pacific Regional Headquarters for the PC Business of Fujitsu Limited, Japan. Its responsibilities include the marketing and sales of a wide range of personal computers for the corporate and end-user markets in the Asia Pacific.
Fujitsu PC Asia Pacific pledges "Shaping Tomorrow With You" for every product under its brand name to reassure users of product and service excellence. From high performance components to stringent quality control and professional after-sales service, Fujitsu stands for reliability and satisfaction. For more information, please visit http://hk.fujitsu.com/pc