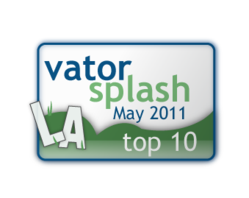 Sunnyvale, CA (PRWEB) June 09, 2011
Splore, the dynamic new social media platform that connects like-minded individuals to take action, was announced as a finalist for the Vator Splash LA competition for May 2011. Vator Splash recognizes Splore for "offering a new kind of social network that connects users based on similar interests." Splore was selected by a combination of popular vote and a field of VC judges as 1 of 10 finalists from of a field of 150 startups to receive this award.
The platform has been in beta testing with the University of South Florida Polytechnic's incubator program, Blue Sky, where co-founder Shawn Ivey reports that the Splore has met with enthusiastic response.
Ivey says, "Splore has received tremendous positive response from initial beta users, and the Vator Splash competition is a fantastic venue to validate our early efforts with a broader audience of entrepreneurs, angel and institutional investors, and press."
"We are thrilled about being selected as one of the top 10 finalists out of 150 startups. This represents for Splore great validation from our peers and the broader technology industry as a whole," Ivey adds. As a finalist, Splore was invited to the Splash LA event to present onstage in front of some 350 attendees.
With Splore, users tap into a wealth of shared knowledge and connect with other users and experts on the topics that matter most to them. While other social networking companies like Facebook work with the user's existing community, Splore centers on common interests and connects people who may not otherwise have occasion to meet.
Splore users create, collaborate, and achieve goals through the site's innovative "splores." Splores connect people with shared interests and can be further refined by a specific location. A powerful recommendation engine makes it easy for individuals to find relevant splores as well as similar users, and empowers them to safely engage with others. User privacy is a fundamental tenant of Splore, and users are provided full control through opt-in privacy options.
In addition to beta testing with the Blue Sky program, Splore has also been an active member of the Vator Splash community, where early stage startups collaborate to create the best possible products.
Splore is preparing for a public launch later in 2011 and the company is working with a number of early customers to adopt their white-label "Splore Sites" platform. Ivey concludes, "We are very excited about bringing interest-based social networking to a much broader audience very soon."
# # #