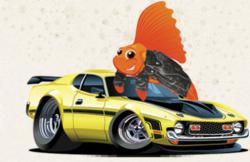 Splunk seems like a great company, and I'm really proud that a fellow California-based business has been so successful.
New York, NY (PRWEB) April 20, 2012
RoadFish.com men's finance and magazine cheered the success of "big data" company, Splunk, in its initial public offering yesterday during which it was triumphant in making it to the top of the charts. The stock closed with an increase in over 108 percent of the original IPO price, extremely impressive for an initial public offering.
According to Jeremy C. Owens of the Silicon Valley Mercury News, Splunk ended up with 36 times the amount of orders than the actual number of shares it was offering. Splunk was even able to increase its IPO price two times in response to the demand, finishing at $17 per share from the original $8 and $10 price tag. The article reports that backers Morgan Stanley quoted the IPO as the "most oversubscribed IPO" that they had ever led. Splunk's chief executive, Godfrey Sullivan, is quoted as saying, "We're the first mover in big data, but it was certainly surprising for us to get this kind of market reaction."
Lynn Cowan of the Wall Street Journal reported that there was a slight technical glitch in the early trading yesterday. Apparently the malfunction occurred when the electronic exchange was hit with a halt at NYSE Arca, resulting in a delay that lasted from 11:20 to 11:25 am Eastern Time. During this time, trades were still filtering through the system, due to a manual error made at NYSE Arca. All trades that made it through during that five-minute period were ultimately canceled. Reportedly this glitch did not have any affect on the company's well-being for the remainder of the exchange, and at the end of the day Splunk still came out on top, with shares closing at $35.48—a whopping 108.7 percent increase from the original IPO price.
RoadFish.com's Senior staff writer is quoted as saying, "Splunk seems like a great company, and I'm really proud that a fellow California-based business has been so successful. The economy in California could use a boost, and it's nice to see this sort of financial accomplishment. Now, if we can just get those Apple stocks up!"
According to the above-mentioned Mercury News article, Splunk's co-founder Michael Baum attributes the company's massive Wall Street success to company's enormous growth within a half a decade. Baum state that in the past five years Splunk has nearly doubled its revenue and, in the last fiscal year alone, had $121 million in earnings. Baum was quoted as saying, "I don't think institutional investors understand the whole 'big data' thing yet. I think it's really more about the company's growth. All these investors care about is growth."
RoadFish.com commented today on the decline of Wall Street yesterday, with the falling of all three major indexes between 0.5 and 0.8 percent, and the Dow Jones sinking below 13,000. RoadFish.com's Senior staff writer is quoted as saying, "While it's great to see Splunk succeed, it's certainly still a little concerning to see Wall Street drop as a whole yesterday, and the big names like Apple and Zynga falling behind. Whenever that happens, I always think about all the folks out there who've got stock in these businesses, banking on making a profit from them to help out their financial situation. It seems to me that our nation is still in a dry spell in terms of money. Debts are high, the average credit score is low, and wallets are tight. In that regard, Splunk deserves an even bigger 'bravo' for their achievement yesterday."
Splunk is currently leading the enterprise technology industry in "big data." They provide software that allows companies who use it to collect, analyze, manage, and crunch large amounts of machine-generated data. The above-mentioned Wall Street Journal reports that Splunk had over 3,700 customers at the end of January 2012, noting that a majority of the Fortune 100 companies were on that list. Included in the list of top Splunk customers are companies such as Bank of America, Comcast, Harvard University and Zynga. Splunk was founded in 2003 by Michael Baum, Erik Swan, and Rob Das, who took the name "Splunk" from the term "spelunking," meaning the exploration of caves.
About RoadFish
RoadFish.com is an online men's lifestyle and finance magazine targeted toward men in their 30's and 40's that have already attained a moderate level of success in life, and are striving toward more. It goes over current events of interest to this group, such things as exciting adventures, making money, consumer interests, hot chicks, and American heroes as well as ways to make more and save more money. It is a publication owned by Purpose Inc.
###