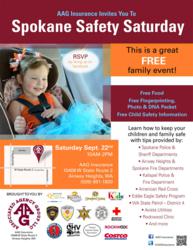 Spokane Safety Saturday is being born out of concern and our commitment to keep children and families safe!

Lonnie Butcher
CEO
AAG Insurance
Spokane, WA (PRWEB) September 19, 2012
Spokane Safety Saturday's goal is to create a free family-friendly event that promotes education and safety awareness. AAG Insurance is creating a "carnival atmosphere", where the professionals can educate kids and parents about important issues such as amber alert plans, car safety, gun awareness, home safety, and fire evacuation plans without creating panic and alarm. AAG Insurance is providing a small meal at no cost for all attendees. There will be door prizes and take-a-ways for everyone. http://www.aag-services.com/safety
Spokane Safety Saturday is September 22nd from 10am-2pm
AAG Insurance
10408 W State Route 2 Ste 1
Spokane, WA 99224
509-891-1800
AAG Insurance is in the protection business and take that responsibility extremely seriously. AAG Insurance decided to create a free event that both gives back to the community, and increase education about some very serious issues & safety practices.
Events of the day:

Free Food, Door Prizes, and lots of Take-A-Ways
Operation Family ID - will provide identification kits include a digital photograph and fingerprints OR McGruff the Crime Dog Safe Kids ID Kits
Information on Amber Alert Action Plans
Bicycle Helmet Fitting Station
Eddie Eagle Gun Safety Program
Emergency Rescue Simulations where Project Imprint will Saw a Car in Half
Try to Text and Drive on the Obstacle Course
Problem Oriented Public Safety Program
Search and Rescue Emergency Response Vehicles on Display
Police, Fire, and Military Vehicles on Display
Home Fire Escape Plans
Safety Sprinkler Demonstration
Ready, Set, Go!: Your Personal Wildfire Action Plan
WATTSON The Energy Watchdog with Edison LIVE (Avista Utilities)
Car Seat Check Stations with Instillation Tips
Inflatable Obstacle Course for the Kiddies
Rock Climbing Wall
Check out Military and Service Vehicles
College and Pro Mascots
ATV Safety Information / ATV Simulator "Ride Safe - Ride Smart"
Project Imprint: Injury Prevention Skits
Coloring Books, Stickers, and Other Give-a-Ways
With all the negative things AAG Insurance has seen in the news recently, it's time protect the children and the community.
Contact:
Jeffrey Wolf
AAG Insurance
Spokane Safety Saturday Coordinator
jwolf(at)aag-services(dot)com
509-891-1800