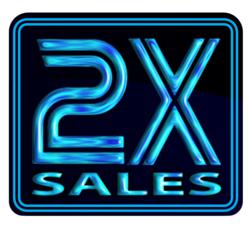 Jerry has helped us sell more product in the last quarter than all last year
Spokane, WA (PRWEB) May 31, 2012
Earlier this week 2X Sales Results Group was mentioned in a press release on the Seattle Post Intelligencer, Houston Chronicle, Boston Globe and many other local and national media websites including CBS.com for helping North Idaho AIDS Coalition (NIAC) re-design their website. Less than two weeks after completion of the website, NIAC received a sizable grant. Reason they were chosen - "We found you on the internet" - Tom Viola, Executive Director, Broadway Cares/Equity Fights AIDS.
2X Sales does more than just design websites. They also offer Search Engine Optimization (SEO), Social Media Marketing, Business and Marketing Consulting, Graphic Design, Press Release Copy Writing and Distribution, and more. Last month they helped a Memphis client expand national sales into Canada through Web Design, SEO, Google AdWords, Press Releases, and Social Media. "Jerry has helped us sell more product in the last quarter than all last year" - Glenn Heard, Product Development, MedixSafe.
How much does it cost for these kind of results? Surprisingly, 2X Sales charges hundreds where their competitors charge thousands. In fact, their hourly rate for consultation is only $44/hr where major firms can charge more than $140/hr. An average five-page website is only $799 and social media maintenance packages start at $295/mo. 2X Sales Marketing Guru Jerry Thrasher explains, "We keep our costs low and pass the savings on to our clients. We have no need for a fancy office or large ad campaigns. All of our advertising is focused on results, like we do for our clients."
Their website 2xsales.com states:
"A successful internet marketing campaign integrates strategies that:

Generate more sales and leads through your website.
Create better search engine ranking results for your website.
Gives tips to integrate your website marketing efforts.
Helps your business evolve to the next level.
Integrates these processes in a seamless manner.
We understand best practices. We understand what works and what does not. More importantly, we understand that if it doesn't deliver tangible results quickly it's not a best practice, no matter what the books says."
2X Sales design team can plan, design, develop, test and launch custom websites to meet a company's unique needs, and provide their marketing team with the tools and best practices to manage their online presence effectively. Whether trying to shorten their sales cycle, need help tweeting about a blog, or simply want to raise product and service awareness; 2X Sales can build or leverage the technology needed to support those business objectives.
2X Sales works with small businesses and ad agencies to assist clients reach their goals. They are a capable and effective full service web design and marketing firm. However, they allow clients to assist in any capacity their desire, time, or resources allow.
For more information contact 2X Sales Results Group LLC online at 2xsales.com, email jerry(at)2xsales(dot)com or call toll free 877-287-1422.
Free Daily Marketing Tips on twitter @2xsales