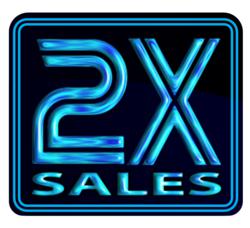 (PRWEB) September 30, 2012
Spokane, WA: Marketing veteran, web designer, and owner at 2X Sales Results Group LLC, Jerry Thrasher offers free marketing tips for everyone to view online at no cost. Daily Marketing Tips can be found on twitter @2xsales and on facebook at facebook.com/2xsales. Today's Marketing Tip - Schedule time to market your business."It is hard to work on your business if stuck in your business"
Recent website tips include Facebook Edgerank, Understanding Search Engines, Freebies, and Press Release advice.
Thrasher says he loves helping companies find new and creative ways to "2X" double their sales. As a regional manager for a franchisee of a fortune 500 company, he broke five all-time sales records and doubled sales in less than a year. In addition to 20 years experience in business, Thrasher is certified in Social Media and holds a degree in Marketing and Business Management.
He lives in Spokane, WA with his beautiful wife and seven children.
2X Sales Results Group LLC, is a Spokane, WA based marketing and media design firm that's focused on web design, Word Press, marketing consulting, creative ideas, proven web design concepts and implementation, advertising, graphic design, corporate branding, press releases, print media design, and online marketing through SEO (search engine optimization) and social media marketing.
"New Web Design Brings In More Donations For North Idaho Aids Coalition … NIAC is very thankful to 2X Sales Results Group for their assistance with the web design that was foundational in making this connection." - Seattle PI
"2X Sales, redesigned the site to help search engines find the nonprofit more easily" - Spokesman Review
Need another tip – here are three more:
Today's Marketing Tip 9/23/12 - Always offer a Money Back #Guarantee to reduce psychological risk factors from potential clients.
Today's Marketing Tip 9/27/12 - Use customer surveys to find out their wants and needs. It also tells you how you are doing.
Today's Marketing Tip 9/29/12 - Do you have a Social Media Policy for your employees? What they say on their off time can hurt you.
Want more visit 2X Sales at 2xsales.com or on twitter or facebook