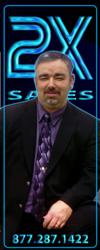 Free tips blog page reinforces the mission statement at 2X Sales " Help Companies 2X (Double) Sales"
(PRWEB) April 30, 2013
Spokane, WA: Spokane Web Designer, Jerry Thrasher has documented low cost / high return marketing ideas and is now sharing those through the blog at 2xsales.com. Ideas range from simple ideas like offering employees candy to more complex methods of free text message (SMS) campaigns. These tips also include methods and strategies that helped a local non-profit receive a large donation within weeks of the release of their new website.
Jerry Thrasher has over 20 years experience in Marketing. He holds degrees in Marketing and Management, and a Certificate in Social Media Marketing. He has owned numerous businesses including an advertising company, newspaper, restaurant, and various web sites. As a Regional Director he broke five all-time sales records and double sales in less than a year. Mr. Thrasher is currently working on a book that details hundreds of low cost marketing ideas.
2X Sales is a Spokane, WA based marketing and media design firm that's focused on marketing consulting, creative ideas, proven web design and implementation, advertising, graphic design, corporate branding, press releases, email campaigns, print media design, and online marketing through SEO (search engine optimization) and social media marketing.
The free tips blog page reinforces the mission statement at 2X Sales "Help Companies 2X (Double) Sales" They believe huge sales increases are possible through proven strategies using guerrilla marketing, search engine optimization, and social media marketing.
Guerrilla Marketing - Guerrilla Marketing seeks a high return at a low cost.
Search Engine Optimization (SEO) - SEO helps customers find you online and offline.
Social Media Marketing (SMM) - Use SMM to find new customers and increase sales through customer loyalty.
For more information and free marketing tips visit 2xsales.com