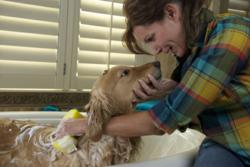 SpongeBuddies is a revolution in dog care that lets you deliver a dog spa experience in the convenience of your home
Los Angeles, CA (PRWEB) February 21, 2013
SpongeBuddies is a revolution in dog care that lets pet owners deliver a dog grooming spa experience in the convenience of their own home, especially since our furry four legged friends spend more time inside the home than outside it's always important that they are clean and smell good.
SpongeBuddies gives pet owners the convenience of shampoo, conditioner, and a sponge in the palm of their hand, "it's like a doggie spa in a sponge." said Craig Shandler marketer of SpongeBuddies.
SpongeBuddies was given the approval by the million dollar Olate dogs, the high-energy, fast-paced dog act filled with impressive pet tricks led by Richard Olate, and his son Nicholas Olate, who won Amerca`s Got Talent and have appeared on Jay Leno and in Las Vegas.
"Our dogs are always on show and SpongeBuddies make our dogs smell great, and look like a million bucks! This is a great way to groom dogs" said Nick Olate. (http://www.olatedogs.tv)
SpongeBuddies is a patented delivery system, which releases specially formulated time-release ingredients. It has specially blended PH balanced shampoo, conditioner, and aloe vera for healthy skin as well as tea tree oil to prevent hot spots and heal any skin irritations.
SpongeBuddies gives the exact right amount of shampoo and conditioner for every bath. The special dog bone-shaped design is easy to grip even when wet and slippery, and it's anti-microbial so it will stay germ free and continue to smell great for months of use.
SpongeBuddies has enough shampoo and conditioner to last 6 months, it's the equivalent of four eight ounce bottles and will allow owners to save hundreds of dollars by not taking pets to the groomer. This exclusive television offer which is only available at http://www.buyspongebuddies.com offers a bonus microfiber towel and a bogo offer. This $40.00 value is only $10.99.