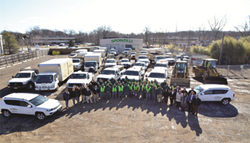 Orientation Day is a time when our entire team can come together and share in our mission as one large group. We are proud of our employees and enjoy the occasions were we get to work closely with them to 'Stand Apart' as a company. Rich Sponzilli
Fairfield, NJ (PRWEB) April 30, 2015
Sponzilli Landscape Group in Fairfield, New Jersey is an award-winning landscaping company specializing in both Residential and Commercial landscape design, construction and maintenance in the Northern New Jersey and New York areas. For over forty years, Sponzilli Landscape Group has been utilizing best practices in design and implementation for their clients while introducing innovative materials and turning outdoor space into customized landscapes.
Sponzilli Landscape Group are leaders in their industry not only because they create spectacular and imaginative residential and commercial landscapes but also because they encourage a commitment to quality, leadership, and growth. Some of the world renowned luxury installations that Sponzilli has completed include Yankee Stadium Parklands, Barclay Center Arena Transit Canopy & Plazas, JP Morgan Chase Headquarters, Goldman Sachs Site 25, and many golf courses throughout the area such as Liberty National in Jersey City and Bayonne Golf Club in Bayonne, NJ. In addition, Sponzilli's Team will prepare the grounds for the 2017 U.S. Open Championship. Sponzilli Landscape Group directly attributes their success to the extraordinary talents and efforts of their team. The company embraces a family-oriented culture and makes conscious efforts to invest in exceptional education, training, development, fulfillment and retention of all employees. Each Team Member exemplifies the company's mission to provide the highest level of service in the landscaping industry and to be known for their quality in design, construction and genuine relationships with clients.
In an effort to truly 'Stand Apart', Sponzilli Landscape Group Team Members take a day at the beginning of each season to underline their commitment to leadership, quality, relationships, safety and growth. They believe in providing the highest level of service to clients, which is why their team annually participates in quality training opportunities to become more skilled in their craft. Sponzilli Orientation Day is an occasion for all employees to learn about the latest projects, share in best practices and implement unique and innovative training agendas.
"Sponzilli Landscape Group's Team of highly trained and learned professionals develop leadership within our industry by being innovators who embrace planning and forward thinking. We strive, throughout all of our interactions, to be positive and progressive experts in our field. Orientation Day is a time when our entire team can come together and share in our mission as one large group. We are proud of our employees and enjoy the occasions were we get to work closely with them to 'Stand Apart' as a company." Rich Sponzilli
For more information about Sponzilli Landscape Group visit their website at http://www.sponzilli.com or call 973-244-1425