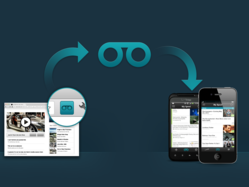 Spool is a killer app for commuters and travelers because they can get Internet content, even if they're offline.
San Francisco, CA (PRWEB) January 04, 2012
Spool, a popular San Francisco start-up that allows users to save text, image, and video content to mobile devices and push content to a friend's mobile device, has raised $1 million in seed funding. Spool secured this funding from a number of marquee investors including SVAngel, StartFund, Felicis Ventures, Charles River Ventures, Steve Chen (the founder of YouTube), Vivi Nevo, and several successful entrepreneurs.
Spool is a digital recorder for the web. Users can save articles, videos, image galleries, PDFs, and have it pushed to all of their mobile devices. They can view this content later, either online or offline. Users can also push this content to their friends' devices without worrying about Flash or the type of device their friend owns.
"Spool is a killer app for commuters and travelers because they can get their favorite Internet content on any of their devices, even if they're offline. Users can save a blog post with a video to Spool, watch it on an Android phone or Kindle Fire on the train home, and push it to a co-worker's iPad. Having articles and videos on all of your devices, and being able to share any of them with one-click is a fantastic user experience." says Spool CEO and Co-Founder, Avichal Garg.
Avichal Garg and Curtis Spencer, Spool Co-Founder and CTO, were inspired to create Spool while on their commute. After a struggle to watch videos on the go, Garg and Spencer realized the need to simplify the way we access content on mobile devices, especially when Internet access is unreliable. "We created an artificial intelligence engine that can save any article or video. It's an amazing piece of technology that acts like a DVR for the Internet. You can download any video or article and get it on any of your devices, or push it to your friends' devices. It's much better than pasting a link and emailing it. You're guaranteed the content will work on your or your friend's device, and it's available even if you're offline." says Spencer.
Spool will use its seed funding to accelerate product development and hire additional engineers. Spool is currently in private beta and available for iPhone, iPad, Kindle Fire, Android phones and tablets, any HTML5 browser, and has add-ons for Chrome and Firefox. Invitations to the Spool private beta are available at http://www.getspool.com
Investor List
SVAngel, Felicis Ventures, Start Fund, Charles River Ventures, Vivi Nevo, Steve Chen, Elad Gil, Deep Nishar, Kevin Donahue, Joe Lonsdale, Bill Lohse, David King, Nils Johnson, Matt Ocko, and Raymond Tonsing.
About Spool
Spool is founded by serial entrepreneurs Avichal Garg and Curtis Spencer. Garg previously founded PrepMe, which was recently acquired by Ascend Learning/Providence Equity Partners. Prior to PrepMe, Garg worked as a Product Manager on Google Web Search. Spencer previously founded CruxLux, which was acquired by Kosmix/Walmart. Prior to CruxLux, Spencer worked as a researcher in artificial intelligence and robotics. Spool's team members include Dr. Aditya Koolwal, Ana Diaz-Hernandez, Chandra Patni, Christine Tieu, and Dr. Daniel Witte.
For more information, contact Spool at info(at)getspool(dot)com.
###