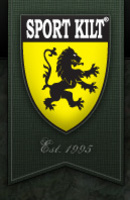 Signal Hill, CA (PRWEB) April 21, 2009
Sport Kilt, the very first company creating casual kilts in the U.S.A., home to both highly desired mainstream kilt designs and completely unique custom kilts has recently re-launched their online store. Featuring new functionality, new products, design and the famous 'Wall of Fame', Sport Kilt is the ultimate one stop shop for all your Kilt needs.
Customers who visit Sport Kilt should prepare for an enjoyable and refreshing online shopping experience. Streamlined product layout and search features help you find the products you are looking for quicker and easier than ever before. Browse a wide variety of kilts and kilt accessories with great apparel for every member of the family. Want to create your very own custom kilt? No problem. Sport Kilt can create a perfect custom kilt just for you. Consider adding hidden pockets to your kilt, a great custom feature available only from Sport Kilt.
Sport Kilt now offers features which allow customers to interact with one another. Share your personal opinion about a product, via 'Write a Review', and let everyone know what you think! Soon customers will even have the ability to upload videos of all the kilt wearing shenanigans you get into. Let's not forget, The Wall of Fame is back, featuring some of the best Sport Kilt action photos you've ever seen. From Golf to Rugby, Cycling to Fishing you can find great photographs of customers out enjoying some good fun in their Sport Kilts.
To commemorate the launch of the new site, Sport Kilt is taking five percent (5%) off all orders when you sign up for the Sport Kilt Newsletter. Be the first to know about special member-only discounts, promotions, and great new products. Remember, Sport Kilt also provides Free Shipping for all orders over $150.
About Sport Kilt:
Founded in 1995, Sport Kilt is the very first company to begin making casual kilts in the USA. We took the traditional kilt concept and crafted a casual kilt using modern materials. It is a perfect fit for the needs of Highland Athletes and casual-kilt aficionados alike. Sport Kilt offers an option for people looking for a tartan (plaid) kilt that is less expensive, comfortable, lighter, and durable, yet machine washable. Athletes around the world love competing in Sport Kilts and, as a result, we have earned the endorsement of the Scottish American Athletic Association. Kilts are becoming increasingly popular for everyday wear, and we are proud to be the leader of that trend.
With an increasing selection of tartans, including our own brand of original designs, Sport Kilts cost about one tenth that of the traditional wool kilt. This, coupled with their simple good looks, comfort and craftsmanship, make them ideal for having fun in a kilt. Sport Kilts are worn at Highland Games, Rock concerts, Celtic Festivals, Coffee shops, restaurants, dog-shows (no kidding!) and beyond.
###