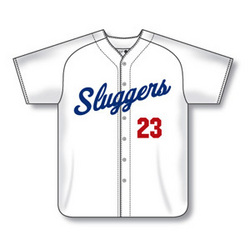 (PRWEB) July 19, 2010
If you're looking for new and unique ways to raise corporate morale and inspire employees, look no further than Yuniform, the One Stop Uniform Shop that does it all.
For over 10 years, Yuniform has been crafting sports uniforms for recreational leagues across North America. They specialize in uniforms for all sizes, from the smallest children to the largest adults. They are renowned for their quality and speed, filling any size order with unmatched efficiency.
Now, Yuniform is announcing their expansion of services to include the design of uniform separates specifically for corporate team building events and activities.
Many North American companies have been cutting back on recreational events and many other perks in this lagging economy. It's still possible to hold fun events like corporate picnics or softball tournaments, and give something back to your employees, with a quality Hockey Uniform, soccer or baseball jersey from Yuniform. They can replicate corporate logos and custom artwork with precision accuracy, as well as keep costs in line by providing high quality garments. Ball caps, jackets and sports bags are also available to be used as prizes and giveaways at golf outings, barbecues, and other fun corporate events.
Many local companies participate in recreational leagues and provide basketball, football, hockey and softball uniforms for their employees. Why not join them by using this fun activity as a team building exercise, to demonstrate unity and the ability to achieve goals? Plus, it will provide physical activity employees may not be getting by sitting at desks all day long. There are many ways to integrate fun into a corporate environment; forming a softball team is an ideal way to promote teamwork and physical fitness. Yuniform can provide the softball uniforms you need, and keep costs in line to fit your budget.
Don't wait for the summer to end before planning that office outing. Do it now, and let your employees show their corporate pride with a Yuniform softball or baseball uniform. For more information about their custom, high quality uniforms and their fast, friendly service, call 905 532-9797 now.
###