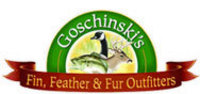 We have grown so much over the last 24 years, this new website design is merely an extension of our growth.
Ashland, OH (PRWEB) December 1, 2008
Mike Goschinski, president of Fin, Feather, and Fur Outfitters announced today that his company has launched a newly redesigned website http://www.finfeatherfuroutfitters.com. The company, located at 652 US 250 East in Ashland, OH, is a full-service sportsmen's retail supplier with a full line of hunting equipment and supplies.
"We are extremely happy to make our internet customers' experience a more enjoyable one. The ease-of-use of the shopping cart is evident from the moment a user opens the website", Goschinski said. "We have grown so much over the last 24 years, this new website design is merely an extension of our growth." With the launch of the website, Goschinski appointed Sean LeMasters to the position of website administrator. "I am quite excited about being involved in the development of the website", said LeMasters and "I am proud to be affiliated with the Fin, Feather and Fur family in new capacity here". He went on to say that "it is going to be challenging and rewarding at the same time." As website administrator, Sean will be in charge of all product input in the online catalog, continual updates to the design features, and content editing for the Information pages on the site.
The website, designed by Outdoor Business Network, features an easy-to-use secure shopping cart. The product selection on the website includes nearly the entire product offering currently carried in the store. Eventually, Goschinski plans to add many products that are not readily available for purchase.
Mr. Goschinski started his sporting goods store, Fin Feather Fur Outfitters In March of 1985 in a small cinder block building in Ashland Ohio. That 2400 square foot building housed the Fin for 15 years, placing Mike and his employees among the best outdoors retail businesses in the state of Ohio. The Fin now occupies a much larger 72,000 square foot facility of today, making it the largest firearms and hunting rifles retailer in the state of Ohio.
Today The Fin has 65 employees with over 230 years of combined sales experience. Three of those employees have been with Goschinski since the first day of business. With product expertise in all areas of hunting, fishing, archery, and camping, the employees are ready to fill all your outdoor needs.
Hunting rifles can be found easily in the huge firearms selection. The Fin sports one of Ohio's largest firearms displays with room for over 850 new and previously owned firearms on their gun racks. Shotguns, pistols, hunting rifles, air rifles and blackpowder muzzleloaders are among the many items you will find in those gun racks. The firearms salesmen are some of the best in the business, as well as, some of the best trained and most qualified. Many of the staff in the gun department have law enforcement, military or gunsmith training and experience. They are happy to help you in the selection of your new hunting rifles or shotguns. The reloading department has all the equipment you need to keep ammo in your pistol, rifles, blackpowder magazines, muzzleloaders and shotguns.
In 2001 the NRA awarded Mike with the America's 1st Freedom Member of the Year Award for changing the public's perception of gun owners, hunters, and sportsman and making a positive change in media coverage of issues such as hunter education, conservation, and gun safety.
The camping equipment department has everything you need for a weekend out with the family or a weeklong kayaking trip all in one convenient location. Along with the usual variety of tents and backpacks in the camping equipment department, you will find lanterns, bug sprays, hiking boots, saws, knives and cooking utensils. The personnel in the department will be glad to assist you with your selection of camping equipment and supplies
The fishing department at The Fin has a wide range of tackle and gear to make sure your next fishing trip is a success.
The knife department carries a large selection of Case and Buck knives, and a variety of air rifles and BB guns. With an ever growing selection of Woolrich, Columbia, Carhart, Scent Blocker, Under Armor, and now North Face, you are sure to find all of your work, casual, and hunting clothes in one place.
Archery equipment and supplies can be found in the Archery department. The Fin has a great selection of bows and crossbows and all the game calls and camouflage clothing you'll need to get out in the field for the next hunting season. You'll find releases, quivers, sights, arrows along with the usual archery equipment you would normally find in your local archery store. The Fin also has a full service staff to assist you with tuning your bow, setting peep sights and selecting the right bow for you.
The Fin has grown from a small sporting goods and sportsmen's retailer into one of Ohio's largest retailers of fishing gear, hunting rifles and shotguns, blackpowder supplies, camping equipment and related supplies, knives, and archery equipment and supplies. We invite you to stop by our new website and browse our extensive catalog of archery supplies, maybe make a purchase or two from our secure shopping cart while you are there.
###