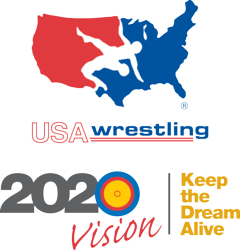 Our mission is to enhance the sports experience for all participants in all sports, and we are honored to support the Wrestling community in their drive to keep Wrestling in the Olympics
Minneapolis, MN (PRWEB) June 18, 2013
Sport Ngin announced today that is has launched a new website to provide support to the 2020 Vision Campaign to keep wrestling a core Olympic sport. The new website, http://www.keepolympicwrestling.com, was produced in collaboration with USA Wrestling and FILA (International Federation of Associated Wrestling Styles).
Wrestling is one of the original sports in the ancient Olympic games. It has grown to be one of the most diverse sports in the world with almost 200 nations participating worldwide. In the 2012 London games, 71 countries qualified to compete and 29 different countries medaled. It is truly an inclusive sport that provides opportunities to athletes worldwide, regardless of geography, race, gender or physical characteristics.
"Wrestling is a sport that many of us, myself included, have participated in since we were kids" said Travis Shives, of Sport Ngin. "Our mission is to enhance the sports experience for all participants in all sports, and we are honored to support the Wrestling community in their drive to keep Wrestling in the Olympics"
On February 12, 2013, the International Olympic Committee (IOC) Executive Board voted to recommend that wrestling not be included as one of 25 core Olympic sports, starting in the 2020 Summer games. This is not a final decision. On September 9, 2013, in Buenos Aires, Argentina, the IOC will meet to determine the future of wrestling as an Olympic Sport.
"The website has been and will continue to be an important touchpoint with the public concerning our cause. The new website has an upgraded platform designed to better serve the wrestling community and help us to achieve our mission of keeping wrestling in the Olympic Games," added Rich Bender, Executive Director of USA Wrestling.
To learn more about the 2020 Vision Campaign, provide financial support, order official merchandise or learn how to you can get involved, visit http://www.keepolympicwrestling.com.
About Sport Ngin
Formerly TST Media, Sport Ngin is the leading provider of web software and mobile applications for youth, amateur, and professional sports. Powering more than 200,000 sports teams, leagues, clubs, and associations, Sport Ngin features a complete suite of easy-to-use tools that help sports organizations manage, connect, and communicate with a diverse range of stakeholders, including athletes, parents, administrators, coaches, referees, scouts, volunteers, fans, journalists, and sponsors. Founded in 2008, Sport Ngin is based in Minneapolis, Minn. For more information, please visit http://www.sportngin.com; like the company on Facebook at Facebook.com/SportNgin; or follow Sport Ngin on Twitter at @sportngin.
About USA Wrestling
USA Wrestling is the National Governing Body for the Sport of Wrestling in the United States and, as such, is its representative to the United States Olympic Committee and the International Wrestling Federation FILA. Simply, USA Wrestling is the central organization that coordinates amateur wrestling programs in the nation and works to create interest and participation in these programs. Its president is James Ravannack, and its Executive Director is Rich Bender.
ABOUT THE COMMITTEE FOR THE PRESERVATION OF OLYMPIC WRESTLING (CPOW)
CPOW is the committee formed by USA Wrestling to manage the effort in the United States to keep wrestling in the Olympic Games. This committee was formed on Feb. 12 after the International Olympic Committee Executive Board recommended that wrestling not be a core sport at the 2020 Olympic Games. This group of successful and influential wrestling leaders has been organizing the American involvement in the international effort on behalf of Olympic wrestling ever since. CPOW is chaired by World champion and Olympic medalist Bill Scherr, a leader within the Olympic movement.
In the United States, the official website is http://www.KeepOlympicWrestling.com, on Facebook at facebook.com/officialkeepwrestlingintheolympics, and on Twitter @wrestlingvision. The international links for FILA are http://www.fila-official.com/, on Facebook at facebook.com/fila.official and on Twitter @FILA_Official.