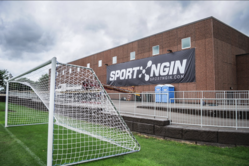 We're extremely excited to bring our full technology suite to Schwan's USA Cup at NSC.
Blaine, MN (PRWEB) July 11, 2013
Sport Ngin, a leading provider of web and mobile-based software solutions for youth, amateur and professional sports organizations, will be powering, and providing on-site technical support for, Schwan's USA CUP in Blaine, MN during the 10 day soccer tournament held July 12-20.
The National Sports Center, the host of Schwan's USA CUP, will be using Sport Ngin Tourney, Tourney Mobile, Broadcast and Websites to bring the most cutting edge technology in the sports world to the 1,000+ team soccer tournament.
While tournament organizers will be utilizing Sport Ngin's web-based software to manage the event and conduct communications, participants and fans will enjoy an interactive mobile experience offered for both iOS and Android devices that will make standings, schedules, brackets, results, photos, videos and extended tournament information accessible on the go.
For fans around the world unable to attend the tournament in person, live video streams of select games and events will be broadcast via the Sport Ngin powered USA CUP website and mobile app.
"We're extremely excited to bring our full technology suite to Schwan's USA CUP at NSC," said Jim Dahline, product marketing manager for Sport Ngin. "Fans and players from around the world will be able to watch the action. Locally, participants will be able to collectively experience Schwan's USA CUP in real-time with Social Stream, our event based social network."
Sport Ngin is also sponsoring the Sand Soccer Tournament and hosting the Coaches Lounge in The Hub.
###
About Sport Ngin
Formerly TST Media, Sport Ngin is a leading provider of web software and mobile applications for youth, amateur, and professional sports. Powering more than 100,000 sports teams, leagues, clubs, and associations, Sport Ngin features a complete suite of easy-to-use tools that help sports organizations manage, connect, and communicate with a diverse range of stakeholders, including athletes, parents, administrators, coaches, referees, scouts, volunteers, fans, journalists, and sponsors. Founded in 2008, Sport Ngin is based in Minneapolis, Minn. For more information, please visit http://www.sportngin.com; like the company on Facebook at Facebook.com/SportNgin; or follow Sport Ngin on Twitter at @sportngin.