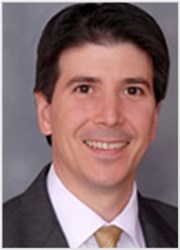 Dr. Rizio is the recipient of the New Jersey Monthly Magazines 2013 Top Doctors award
New York, NY (PRWEB) October 24, 2013
Dr. Louis Rizio, board certified orthopaedic surgeon at Sports Medicine and Orthopaedic Center and recipient of the New Jersey Monthly Magazines 2013 Top Doctors award, wanted a website that highlights the techniques he employs to help people resume their desired activities and get back on their feet. The revamped website adequately displays Dr. Rizio's combination of knowledge of the anatomy, passion for Sports Medicine, and commitment to working with each patient's unique concerns throughout its pages.
The website's most noteworthy accomplishment is the comprehensive treatment options, reorganized so that patients can understand the different types of services that Dr. Rizio employs. The content is informative and easy to understand. The pages approach every angle to procedures, so patients not only read about the "how" a procedure works but the "why" it may be the right solution as well. Procedures include, but are not limited to, Platelet Rich Plasma Treatment, Achilles Tendon Repair, Fracture Surgery, Knee Replacement, Shoulder Surgery, Meniscus Tear, etc.
Individuals and their loved ones who are interested in seeking more detailed information about Sports and Orthopaedic Center can view the new website's contact page or by calling Dr. Rizio's office directly at (973) 758-1078 for his New Jersey office or (212) 518-4529 for the NYC office.
The website was redesigned by SmartSites.com, a digital media company based in New Jersey. SmartSites.com offers web design and marketing to small and medium sized businesses. Smartsites.com works to bring each respective client's unique vision of website redesign to life while maintaining the integrity of the business.
About Sports and Orthopaedic Treatment Center
Sports and Orthopaedic Center has offices in Livingston, NJ and Downtown Manhattan. Dr. Rizio accepts patients with a wide variety of sports-related injuries. No matter if the injury just occurred and is in need of emergency help or if the injury has been ongoing, recently becoming unbearable, The Sports Medicine and Orthopaedic Center can help. Dr. Rizio is the primary orthopaedic surgeon who addresses individual concerns and problem areas with clarity and compassion. It is evident from the praise received on the Testimonials page of the website that Sports Medicine and Orthopaedic Center is worth checking out.