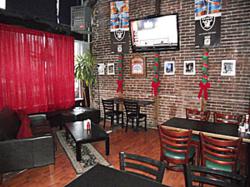 Oakland, CA (Vocus/PRWEB) March 18, 2011
March Madness is striking The Grand Oaks Sports Bar & Grill, and for the first time ever, the bar will be open for lunch so that basketball enthusiasts can watch all the action, all day long.
Located in the upscale Old Town section of downtown Oakland, The Grand Oaks boasts a classic and comfortable interior perfect for watching all the teams fighting for a spot in the Final Four. Basketball lovers will be wowed with the multitude of flat screens that virtually blanket every wall and a menu of terrific game grub and beer.
"We are a friendly neighborhood bar, and we take the time to get to know each customer's name," said Grand Oaks manager Stephanie Lee. "We are conveniently located with plenty of easy parking, and we provide a safe environment where fans can cheer on their favorite teams."
Great food is always available. Patron favorites include pizza, tacos and wings—ready to be gobbled up at game time. The bar offers thin-crust specialties such as BBQ chicken and curry chicken pizzas. The Thai chicken tacos are an area fave.
"As far as sports bars go, this place is great," said Charles. "Comfortable chairs and couches aplenty, plus a good selection of libations."
That's right. The Grand Oaks offers a great selection of bottled and draught beers and a number of specialty drinks and margaritas. During happy hour, Monday through Sunday 4 to 8 pm, they offer $1 off any beer, appetizer or daily shot special.
With a continuously running sports ticker to keep sports fans abreast of all the happenings of every game—and as part of an excited crowd—there is no better way to enjoy the tournament action.
Come see what the crowd is cheering about, enjoy the best Happy Hour Oakland has to offer, or try some delicious chicken wings.
About Grand Oaks Sports Bar & Grill
Grand Oaks Sports Bar & Grill is a sports bar that offers comfortable seating for 120 people and specializes in fun and sports excitement. Grand Oaks Sports Bar has become such a popular Oakland nightlife spot that it's frequently rented out for private parties.
Grand Oaks Sports Bar Oakland is open 7 days a week and located at 736 Washington Street in Oakland at 8th, just a couple of blocks from the 12th Street BART. To see an event calendar, visit their website at http://www.thegosportsbar-oakland.com or give them a call at (510) 250-3771.
###