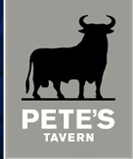 Whether you're looking for a pre-game bite, a post-game drink or just a relaxing atmosphere to enjoy some tacos and horchata any time of year, Pedro's is a surefire sensation
San Francisco, CA (PRWEB) January 06, 2012
The premier San Francisco sports bar, Pete's Tavern, and conjoined Baja-style restaurant, Pedro's Cantina, announce their January events and specials.
As the NFL season countdowns to Super Bowl XLVI, Pete's Tavern will feature the playoffs on its big-screen TVs, starting with the Wildcard Weekend from Jan. 7-8 and followed by the Divisional Playoffs from Jan. 14-15. The Conference Championships will be held on Jan. 22, and the season ends with Super Bowl XLVI on Feb. 5.
Pete's will also feature the BCS National Championship Game between Alabama and LSU on Monday, Jan. 9.
On Jan. 12, from 7 to 9 p.m., 49er football legend Joe Montana will visit Pedro's Cantina to share his memories, answer questions from patrons and breakdown the NFL Playoffs. Tickets are available at http://fhsentertainment.com, and the event features door prizes and a silent auction.
In January, Pedro's Cantina is also introducing two new menu items: fish tacos and empanadas. Drop by the restaurant to sample these spicy new menu additions.
"Whether you're looking for a pre-game bite, a post-game drink or just a relaxing atmosphere to enjoy some tacos and horchata any time of year, Pedro's is a surefire sensation," one reviewer said on livesoma.com.
For more information about Pete's Tavern or Pedro's Cantina, call 415-658-9297, view the tavern on the web at http://www.petestavernsf.com and the restaurant at http://www.pedroscantina.com, or visit the adjoining businesses at at 128 King St. in San Francisco.
About Pete's Tavern and Pedro's Cantina
Pedro's Cantina adjoins Pete's Tavern to create a 20,000-square foot hot spot. Located at King Street, the venues are part of the Golden Bear family of restaurants, and they feature big-screen TVs for customers to watch live sports while enjoying great food and drinks.
Pete's Tavern is one of San Francisco's premier sports bars. Its world class horseshoe bar features 12 beers on tap, as well as a selection of domestic and imported bottles. Its house-blended drink specials, selection of premium wines and extensive bar menu make Pete's Tavern a great place to enjoy casual dining and adult beverages.
Pedro's Cantina mixes a 360-degree bar, signature margaritas and authentic, street-style fare at affordable prices. The cantina features 22 high-definition, 50-inch plasma TVs, a state-of-the-art sound system and two private venues for all type of private events.
###