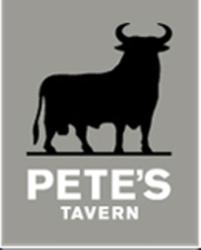 With 41 flat-screen TVs, four projection screens and 20 beers on tap, we are the best sports bar in San Francisco to watch all the NCAA action
San Francisco, CA (PRWEB) March 10, 2012
The premier San Francisco casual dining venues to watch live sports on big-screen TVs, Pete's Tavern and Pedro's Cantina, announce upcoming March event dates.
Although the San Francsico Giants began spring training on March 3, the NCAA season is heating up, with the madness beginning on March 11.
"With 41 flat-screen TVs, four projection screens and 20 beers on tap, we are the best sports bar in San Francisco to watch all the NCAA action," said Jamie Bonfigli, events coordinator for Pete's Tavern and Pedro's Cantina.
Meet the Shakers Girls from the San Jose Earthquakes on March 15 from 5:00 p.m. to 8:00 p.m. at Pedro's Tavern for the chance to win prizes, such as tickets and Earthquakes' merchandise. Come back to Pete's Tavern on March 17 for a pre-party with the Shakers Girls from 10:00 a.m. until 12:30 p.m.
On March 17, Pete's Tavern and Pedro's Cantina will celebrate St. Patrick's Day with a special menu of corned beef and cabbage, and plenty of Guinness on tap.
Stop by Pete's and Pedro's for a happy hour or to experience great food and the best burgers around. San Francisco's casual dining venue, Pete's Tavern, has an excellent bar menu selection, while Pedro's offers authentic street-style fare.
For more information about any of the services or events offered by Pete's Tavern and Pedro's Cantina, call 415-817-5040, view the tavern on the web at http://www.petestavernsf.com and the restaurant at http://www.pedroscantina.com or visit the adjoining businesses at 128 King St. in San Francisco.
About Pete's Tavern and Pedro's Cantina
Pedro's Cantina adjoins Pete's Tavern to create a 20,000-square-foot hot spot. Located at King Street, the casual dining and private event venues are part of the Golden Bear family of restaurants and feature big-screen TVs for customers to watch live sports while enjoying great food and drinks.
Pete's Tavern is one of San Francisco's premier sports bars. Its world-class horseshoe bar features 12 beers on tap, as well as a selection of domestic and imported bottles. Pedro's Cantina mixes a 360-degree bar, signature margaritas and authentic, street-style fare at affordable prices.