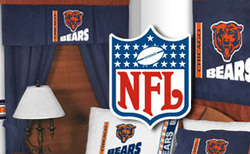 Offering the sports bedding in this manner allows the customer to buy only those specific items that they really want
Gilbert, AZ (Vocus) December 14, 2009
Select Bedding announces that virtually every major league professional sport, and a complete offering of NCAA sports team bedding, is now available. With more than 150 distinct bedding choices are teams from the four major leagues of sports.
The NFL regular season is almost over, and the playoffs, if they include your favorite team, turn a casual fan into a really serious fan. Sports bedding is ideal as kids bedding for the little sports fan, and kids love to support their favorite team in every visual way possible. Imagine decorating your kid's room with Philadelphia Eagles bed sets, or adding a NY Giants pillow to the current bedding ensemble.
NBA bedding includes Chicago Bulls bed sheets, Los Angeles Lakers bedding, New Jersey Nets comforters, New York Knicks pillow cases, and more. In fact each team's sports bedding includes all of the items needed to decorate an entire bedroom. And to insure that you have a positive NBA bedding shopping experience, Select Bedding presents the bedding as separate items. "Offering the sports bedding in this manner allows the customer to buy only those specific items that they really want", comments Rick Steele, founder of Select Shops. "Our sports bedding offering actually includes shower curtains, drapes, and wall hangings", noted Mr. Steele, "so doing an extreme makeover of an entire room can be accomplished by shopping at SelectBedding.com".
Major League baseball sports bedding is also available from nine of the most exciting teams. Chicago Cubs bedding, New York Yankees pillows, and Atlanta Braves comforters are just a few of the MLB items offered. As with all of the sports team offerings, drapes, bed skirts, decorative pillows, shams, shower curtains, and more are available as individual items, giving the customer maximum sports bedding decorating flexibility.
NHL bedding is available too! Hockey is still a professional sport, and Select Bedding supports the fans of this exciting major league sport. NHL bedding includes 14 teams, with as many items available per team as the other major league sports bedding offerings.
"NCAA bedding has quickly become extremely popular category", concludes Rick Steele, "Adults love to show their support for their alma maters, and adding a sports bedding item to the bedroom décor seems to be quite acceptable".
Sports bedding from Select Bedding, scores every time!
About Select Shops owner of Select Bedding
Headquartered in Gilbert, AZ, Select Shops owns the Web's leading destinations for ready-to-install and custom-made home fashions, including SelectBlinds.com, SelectRugs.com, SelectFans.com and now SelectBedding.com. SelectBedding.com, provides a tremendous variety of bedding options. All of Select Shops Web sites offer competitive pricing, convenience, secure online shopping, live assistance, customer satisfaction guarantees and strong warranty programs on all of its products. For more information, please visit http://www.SelectShops.com.
# # #