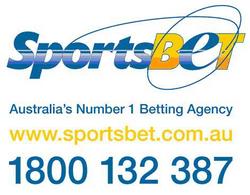 We can only promote our Million Dollar Tipping competition through word of mouth, which is frustrating but the response just shows that people know a good deal when they see it
(PRWEB) February 26, 2008
An advertising ban on Darwin betting agency Sportsbet.com.au has had little impact on its ability to attract footy fans to the Million Dollar Footy Tipping competition it is currently running. Thousands have already signed up in the hope of winning the $250,000 first prize in both the Aussie Rules and Rugby League competitions which have been promoted without any advertising.
New South Wales, Victorian, South Australian and Tasmanian legislation prohibits the Darwin Licensed betting agency from advertising its products and betting services which guarantees the TAB's dominance in the field. Despite the fact this is a free to enter tipping competition laws prohibit its promotion because it is run by Sportsbet.com.au
"We can only promote our Million Dollar Tipping competition through word of mouth, which is frustrating but the response just shows that people know a good deal when they see it", said Phil Hannah GM Sportsbet.com.au.
Sportsbets Million Dollar Tipping is the richest tipping competition in Australia!
About Sportsbet Pty Ltd
Sportsbet accepts wagers on Australian and International Horse racing, Harness racing and Greyhounds as well as Australian and international sporting, political and entertainment events. Place wagers online at http://www.sportsbet.com.au or by calling 1800 132 387 (Racing) or 1800 138 238 (Sport).
###