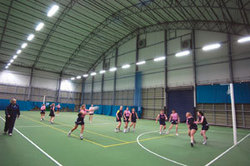 Newcastle upon Tyne, United Kingdom (PRWEB) January 3, 2008
Rubb Buildings, Ltd., a worldwide leader in the construction of fabric buildings, has recently completed a new leisure and conference facility in the North East of England for the Blue Flames Sporting Club at Longbenton, Newcastle upon Tyne.
Awarded from tender, the client had been very impressed with Rubb's highly successful sporting complex for West Bromwich Albion Football Club, which included an indoor training facility and a community sports hall. Construction of the Blue Flames Sports and Leisure building was built on land adjacent to the Newcastle United Indoor Football Centre, another one of Rubb's premier sports structures.
At 47m wide x 66m in length with sidewalls of 8.5m, the facility comprises one large sporting arena, which can be quickly divided by netting into four separate courts, allowing the space to be used for a range of different activities. The Blue Flames Sporting Club is home to the Tyne and Wear Netball Association and as well as running a regional netball league, the centre is used by a range of tennis and cricket clubs, with the indoor cricket nets providing a much needed modern sports resource for the area. The club is also used on a regular basis for indoor soccer coaching for children. The club is available to hire by the general public for sports use and for a variety of functions, with the unique reverse curve roof design creating the space to accommodate a reception area, fully licensed bar, changing rooms, toilets and treatment facilities all within the overall structure.
The reverse curved roof provided a challenging construction problem with Rubb having to ensure a seamless curve on both the steel framework and the PVC cladding. One of the key features of these indoor facilities is the natural light allowed in through the semi-translucent roof. This natural lighting not only saves on energy costs but also provides a lighter, brighter and more appealing sports activity environment than provided by other structures.
With regard to the product itself, only top quality materials are used in the manufacture. Each sports building comprises a galvanized steel frame with a PVC translucent membrane. Postproduction hot dip galvanizing of all welded components ensures that steel surfaces inside and out are protected from corrosion - thus the customer is guaranteed low lifetime maintenance, superior structural integrity and enhanced performance. The semi-translucent membrane is made from high strength, heavy weighted, architectural fabric. Many Rubb structures are still in use with the original membrane after a quarter of a century.
One key additional benefit of the Rubb system is efficient space utilization. Rubb's truss frame system allows for clear span space and high vertical walls to suit many sports activities.
Furthermore Rubb sports buildings can be effectively insulated, heated or air-conditioned to provide a perfect sports playing environment whatever the weather outside.
About Rubb, Ltd.
The Rubb organisation, with production facilities in Great Britain, Norway and the United States is recognised as a world leader in the design, development and manufacture of relocatable structures and is quality certified to ISO9001: 2000.
# # #