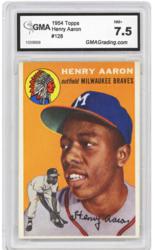 Tampa, FL (PRWEB) August 21, 2012
Those sports cards you have stored in boxes in your spare bedroom closet? They might be worth something. Alan Karpuch, who founded GMA Grading in 2003, is seeing an increasing number of people sifting through cards they haven't perused in years, offering them on eBay and Amazon.com, and going into business for themselves buying and selling cards.
The sports card industry has dramatically changed since its booming days of the 80s and 90s, when a myriad of manufacturers sprouted and printed an abundant supply of collectibles. In the last decade, many card companies have disappeared or have been acquired from larger firms. This year, Major League Baseball licensed only one company, Topps, to produce cards.
"Our business has grown as the economy has soured and people have decided to sell cards for supplemental income. In many cases, they are opening their own online businesses," Karpuch explained. "Few physical card shops remain. For the most part, everything is online."
Whether you are a collector or a dealer, having your cards graded substantially increases their value. The grading process determines the card's condition and authenticity. Counterfeiting is rampant in the sports card industry, so grading gives buyers peace of mind that what they are purchasing is real.
There was a time when individuals would sell their collectibles at a card shop, and the card shop owners would pay a limited price so they could turn around and offer the inventory at a higher rate to satisfy their desired profit margin. The emergence of sites like eBay and Amazon.com allowed at-home collectors to sell their cards direct online and let the market dictate the price.
Since the industry is now mostly composed of online dealers who are operating small businesses, every dollar is crucial in a card's value and sale price, escalating the importance of grading. In addition, time is money in the sports card business. One card might be hot for awhile and then a month later it has cooled a bit. Understanding this, Karpuch has differentiated GMA Grading by his larger competitors by offering unprecedented pricing and turnaround time.
GMA Grading guarantees that customers that all orders will be processed within five business days from the day they are received. Competitors generally have turnaround time of 30 to 45 days. GMA Grading's rate is $2 per card, and bulk prices are available. His competitors charge $8 to $10 per card and have tiers of up to $50 per card based on time frame.
"We grade the card based on its condition, not on the bulk that a customer sends. Some grading companies are known to give grades based on the volume of cards sent at one time," Karpuch said. "Some of our customers who are dealers send us as many as 4,000 cards a month. Then we have some people who will send us two or three cards at a time for their collection. We treat every customer with respect regardless of how many cards they submit."
The grade of a card can widely impact its value. For example, 1993 Upper Deck SP Derek Jeter rookie – which is a foil card that is difficult to find in good condition – can sell for $15,000 if it achieves Gem Mint 10 status. The same card is valued around $200 in NM-MT 8 condition.
The grading process is simple. Customers visit the GMA Grading website, fill out the submission form and mail their cards. Among the factors that determine the grade is sharpness of edges, the centering of the photo, print quality and photo quality and whether or not it has surface scratches and creases.
After they are graded, the cards are placed in plastic holders that are affixed with a label that includes details (such as the player, the manufacturer, the card year and number and specific descriptions, such as a rookie card) and sealed. Cards are shipped to the customer within five business days.
Karpuch further differentiates GMA Grading from its competitors through popular features on the website like a free online price guide (competitors charge for usage of their price guides), a list of "What's Hot" for the week, and other up-to-date information for people who buy and sell cards.
He has also contracted with artists who create art cards that are exclusive to GMA Grading. Among the players who are featured in limited edition, numbered art cards through GMA Grading include Andrew Luck, Kobe Bryant, Alex Rodriguez, Aroldis Chapman and Andy Dalton.
Karpuch's creative entrepreneurial mind continues to stir this summer as his company is preparing to make a card that he hopes will land in the Guinness Book of World Records as the largest collectible card on the globe. Visit http://gmagrading.com