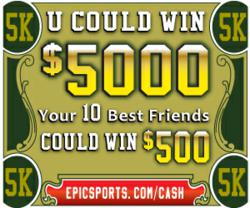 Personally, I've never seen a sweepstakes as awesome as this! - Mike, VP of Public Relations
Wichita, KS (PRWEB) June 16, 2011
Epic Sports, one of the nation's largest online team sporting goods retailers has created a new twist in sweepstakes! The sweepstakes winner wins $5,000, but the twist is that the winner also chooses 10 friends that win an additional $500 each.
Participants are invited to enter the Epic Sports "Like" sweepstakes online at epicsports.com/cash. The sweepstakes is open to all U.S. residents who are 18 years of age or older. It ends on July 15th, so be sure to REGISTER NOW and share this opportunity with friends, so they can win too!
"We're delighted to offer $5,000 to one lucky fan and $500 to 10 of their friends. This is a great opportunity for us to give back to our baseball, soccer, football, and basketball enthusiasts, many of whom have been loyal shoppers of our site for years," said Mike, VP of Public Relations.
Each contestant may enter only once, although the more friends that have entered, the greater that contestant's chance of winning. The entry form requires only the entrant's name, country, age, and valid email address. All information is kept private and no purchase is necessary. A random drawing to determine the winner shall be conducted on or around July 22nd. The winner will be contacted by email within 10 days to confirm eligibility and to provide a list of up to 10 other entrants he/she wishes to receive one of the available friend prizes. For the official rules, prize description and odds disclosure, visit http://epicsports.com/cash.
When it comes to online sporting goods outlets, Epic Sports offers the complete package. The store not only ensures its customers the best quality products available anywhere, it's legendary for providing the largest selection of goods at the absolute lowest prices. Whether it's about baseball, basketball, soccer, softball, volleyball or cheerleading, Epic continually strives to identify its customer demand and come up with innovative ideas designed to keep teams on the cutting edge of savings.
Epic Sports is one of the leading online sporting goods retailers, specializing in supplying "the best sports equipment at the best price" to individuals, teams, coaches, clubs, leagues and schools across America. To learn more, visit the Epic Sports blog or join our Facebook community at http://www.facebook.com/pages/Epic-Sports/162948754939
# # #