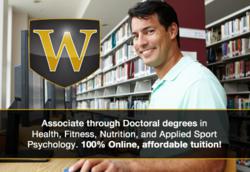 Earning a degree in applied sport psychology is ideal for coaches, trainers, instructors, mentors and psychologists in the sports and fitness industries.
(PRWEB) May 15, 2013
Baseball, soccer, swimming and tennis are some of summer's hottest sports. To that end and to better serve athletes in all sports and at all levels, Wexford University offers an online Master's of Science Degree in Applied Sport Psychology, with summer classes beginning June 24. Students can register now for summer classes and learn more online at http://wexford.edu/degree-programs/applied-sport-psychology-online-masters-degree/.
No matter what the sport or the season, sports psychology pros and coaches can help athletes of all levels with the mental portion of sports competition and fitness training. The online program at Wexford University focuses on mental training skills, including focus, relaxation, goal-setting, leadership and reducing anxiety to help athletes increase performance and confidence.
"Summer is a great time for sports and activities, including everything from competitive triathlons to pick-up basketball games, and sports psychologists can truly help athletes gain the focus they need and want to succeed in any game," said Jack Bauerle, Chancellor of Wexford University. "Sports psychologists are invaluable in the field of athletics today, and we are proud to have trained some of the best in the business and to have several expert sports psychologists on our staff."
Wexford University's online Master's Degree in Applied Sports Psychology focuses on the critical role the mind plays in the world of competitive sports; the ideal combination of classroom and practical experience working with athletes; critical thinking skills that can be used to benefit athletes; and preparing for a potential doctoral degree in Applied Sport Psychology. Upon graduation with a Master's Degree in Applied Sport Psychology, graduates may choose to apply for certification with the Association of Applied Sport Psychology (AASP).
Wexford University's summer session offers convenient and flexible scheduling of online classes as well as a variety of health, fitness, nutrition and wellness degree programs of all levels.
About Wexford University
Wexford University is dedicated to providing world-class education through cutting-edge technology, offering direct application degree programs in an accelerated format with 100 percent online learning to save time and money. Programs include an associate of arts degree in Fitness Training, bachelor's degree in Health and Fitness, master's degree in Nutrition and Exercise as well as master's degree and doctorate degree in Applied Sport Psychology. Wexford University is the higher education division of NESTA (National Exercise & Sports Trainers Association). For more information, please visit http://wexford.edu/.