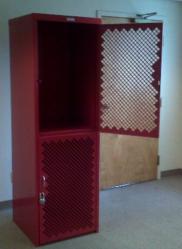 Customers Need Our Sports Lockers and Deserve A Great Deal
Boston, MA (PRWEB) April 03, 2012
Nothing says spring like a new sports locker arrangement. In order to facilitate more sports locker volume, A Plus Warehouse is announcing the second quarter sports locker promotion.
Since summer is sports locker buying season, with schools crowding out the entire market – A Plus Warehouse is attempting to smooth out demand while offering compelling values. The sports locker promotion is fairly simple. Shipping can be expensive for a sports locker order. The promotion is a cap on total standard shipping, The cap does not include accessorial charges such as inside delivery, hydraulic tailgate and appointments. It also does not cover Alaska or Hawaii – just the lower 48 US States. For the second quarter of 2012, the maximum shipping charge will be $1,500. Effectively, this is a great deal for any sports locker order over $7000. The promotion is based on published prices and can not be combined with other offers. Customers that mention the second quarter sports locker promotion when getting a quotation will receive the benefit.
According to Ed Stairman, "Customers need our sports locker systems – and they deserve a great deal."
What lockers then are covered by this amazing promotion? All lockers – even those that are not specifically sports lockers. The promotion will cover corridor lockers, gym lockers and even our TA50 Lockers. There are many reasons to order sports lockers from A Plus Warehouse. The prime reason is service. A Plus Warehouse customer service representatives are the best in the business, and are able to help with the most challenging of locker quotations. When considering a vendor, price always matters as well. Since 1996, A Plus Warehouse has been making compelling value offers to customers nationwide and internationally as well. The final thing to consider is lead time. With A Plus Warehouse's inventory levels in regional distribution centers – delivery is prompt and worry free. From NYC to LA and Chicago to Dallas, A Plus Warehouse is ready to help.
A few words on A Plus Warehouse:
Having operated http://www.apluswhs.com since 1996 , A Plus Warehouse is a seasoned internet sales organization. That being said, Ed Stairman, the company founder and CEO was born in 1964, so the company understands handling customers by phone and fax – A Plus Warehouse is not an electronic communications only company! A Plus Warehouse is your lockers source!