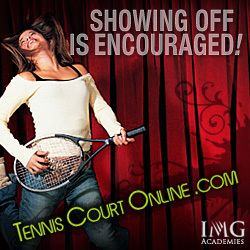 Naples, FL (PRWEB) June 17, 2008
Neighborhood America and its ELAvate enterprise social network solution will power the first of several premier sports-focused online communities for IMG Academies (IMGA). The Tennis Court Online will be the ultimate destination for everything tennis, connecting world-class athletes, coaches, future stars and fans alike. This new online community enables members the opportunity to extend their passion for the game beyond the courts and into an online environment.
"We wanted our members to be able to feed their love of tennis both on and off the court," said Ted Meekma, co-director of IMG Academies. "Neighborhood America's team has empowered us to leverage the social networking phenomenon that has become so popular with consumers to enable members to find partners, chat with friends, receive training tips and have their videos viewed and critiqued."
The online community was created with the intent to not only facilitate peer-to-peer marketing among athletes, but also to provide a highly targeted audience that will drive advertising dollars from sponsors, manufacturers and others striving to reach a premier niche community of tennis enthusiasts.
With the goal of providing a continuous flow of compelling, fresh content that keeps members coming back, the Tennis Court Online combines professionally produced content like coaching videos and training tips with user generated content - not to mention contests and promotions tied to tournaments and events. The community also leverages social media to support member profiles, blogs, videos, photos, and comments - as well as encourages healthy bragging rights while allowing members to rank and rate their least and most favorite.
The IMG Academies brand (via its Nick Bollettieri Tennis Academy) is globally recognized for producing world champions including tennis greats Maria Sharapova, Andre Agassi, Monica Seles and Jim Courier.
"IMG Academies is a brand that has been carefully built by creating an exceptional sports-focused training and education environment for dedicated junior, adult, collegiate and professional athletes," said Dan Miller, Neighborhood America's Executive Vice President. "It is a privilege to enable IMGA to replicate this environment through a branded online community that allows them to meet the rising demand among consumers to remain connected through new forms of online and mobile engagement."
About IMG Academies
IMG Academies, a division of IMG, is the world's largest and most successful multi-sport, training and education camp/academy business. Spread out over 300 acres in Bradenton, Florida, the IMG Academies complex encompasses the Nick Bollettieri Tennis Academy, the David Leadbetter Golf Academy, The Baseball, Basketball, Soccer and Swimming Academies, International Performance Institute, The Pendleton School, University of Miami, The Wellness Spa, Academy Realty, and the IMG Academies Golf and Country Club. More information about IMG Academies is available at http://www.imgacademies.com.
About Neighborhood America
Neighborhood America's ELAvate solution was named the software industry's 'best social networking solution' for enterprises, honored with the 2008 Codie Award. ELAvate enables companies to build online and mobile communities to engage consumers, facilitate ongoing dialogue around their brand, and gain continued business intelligence. Brands such as Scripps Networks, FOX News, and Adidas rely on Neighborhood America for its award-winning technology and commitment to guide them through the entire community-building process - from strategy, through implementation, to ultimate success. Learn how your company can gain a competitive advantage by visiting: http://www.neighborhoodamerica.com.
# # #