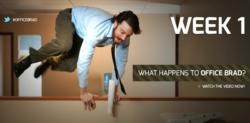 Big game tonight... You guys coming? - Office Brad
Toronto, ON (PRWEB) May 11, 2012
Pointstreak Sports Technologies Inc., a leading sports software vendor, has released the first in a series of tongue-in-cheek videos that illustrate what can happen when you make rec league players feel like pros through the use of modern sports technology.
The Adventures of Office Brad series focuses on the antics of "Office Brad", a fictional rec hockey player whose league recently started using Pointstreak's technology to post live scores and instant video clips of all his goals, just like elite athletes experience on a daily basis. Office Brad deludes himself into thinking he's playing in the Big Leagues and his behavior starts to irritate his colleague, "Rookie Jess", whom eventually gives Office Brad his comeuppance.
To promote the videos, Pointstreak also announced a "Share to Win" Sweepstakes that encourages people to share the Office Brad videos through Facebook and Twitter. Each share will equal one entry in the sweepstakes, allowing any one person to earn up to 25 entries into the sweepstakes (subject to the official sweepstake rules and regulations). The winner of the sweepstakes will win 2 tickets to a local sporting event of their choice.
The Adventures of Office Brad and the accompanying "Share to Win" Sweepstakes will run for four weeks starting May 10th, with each week seeing another 3 new Office Brad webisodes released. Pointstreak's Office Brad videos are intended to celebrate the launch of Pointstreak's new product information website, pointstreaksolutions.com. The new and improved Pointstreak Solutions website covers the range of Pointstreak's products, sports markets and acquisitions, notably Pointstreak's revolutionary electronic raffle system, called 5050 Central; their instant video highlights system, called Pointstreak Live Publisher and their online sports league registration software, called Pointstreak Registration.
The Adventures of Office Brad was created and directed by Scott Moulton in association with A Blue Car Films production.
ABOUT POINTSTREAK SPORTS TECHNOLOGIES:
Pointstreak Sports Technologies Inc.'s mission is to provide innovative technologies to enhance the experience of the global sports community.
Pointstreak provides innovative sport software solutions for sports organizations such as associations, leagues, clubs and teams that are geared towards streamlining operations and improving the experience of the sports participant, fan and media. Pointstreak's major brands include: Pointstreak Stats, a real-time scoring & official league statistics system; Pointstreak Registration; an online registration & payment processing system; Pointstreak Sites; a sports website content management system; Team Locker Room, a free social network for sports teams; STEVA Sports Software; sports video indexing and analysis software; Cardinal Sports Management, recruiting and scouting services; 5050 Central; an electronic raffle management system. More information about Pointstreak Sports Technologies Inc. can be found at pointstreak.com or through the product information website pointstreaksolutions.com.
MEDIA INQUIRIES:
For any media inquiries, please contact:
Gregg Sayer
VP Communications
Pointstreak Sports Technologies Inc.
Email: gregg(at)pointstreak(dot)com
Phone: 778-330-1247