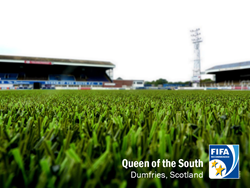 We're pleased to partner with fellow innovators to continue raising the bar for safety, performance and durability of synthetic turf systems.
Austin, Texas (PRWEB) March 25, 2015
Bonar Yarns and Act Global were recently announced as finalists for the upcoming Sports Technology Awards, as a result of the newly developed and unique synthetic turf surface at Queen of the South Football Club.
The awards celebrate the best and most innovative technological advancements throughout the sporting industry, and were inspired by technology's increasingly important role in sport.
"We're pleased to partner with fellow innovators such as Bonar Yarns to continue raising the bar for safety, performance and durability of synthetic turf systems," said Chris Clapham, managing director of Act Global. "We always focus on the meeting the needs of players and clubs first, and to be also recognized for an award is a great honour."
Bonar Yarns and Act Global together developed an advanced artificial turf system which would meet Queen of the South's performance requirements, as well as satisfy international sporting and FIFA standards. The resulting technology features a unique fibre blend using MN Ultra yarns, woven into an interlocked backing. When compared to traditional tufting techniques, this system offers overall enhanced performance, including consistent ball roll, superior tuft lock and a resilient, non-directional turf pile.
The completed pitch at Palmerston Park achieved FIFA Two Star Certification, the highest mark of elite level performance.
This is the second Sport Technology Award nomination for Dundee based Bonar Yarns, as last year they won 'Best Technology provider – under 2m'.
"We're extremely honoured and proud to have been shortlisted for this year's Sport Technology Awards," said Bryn Lee, commercial director of Bonar Yarns. "It's fantastic that we're being recognised, again, for our involvement with technology in sport – it's great for us as a company, our partner Act Global and the entire industry."
Winners of the Sports Technology Awards will be announced on March 27, in London. For more information on the awards, please visit the website: http://www.sportstechnologyawards.com
ABOUT ACT GLOBAL
Act Global is a world leader in synthetic turf manufacturing, with production locations in USA, Europe and Asia and installations in over 70 countries. The company's Xtreme Turf and Xtreme Lawn products replicate natural grass for use in international stadiums, indoor sport centers, synthetic lawns and other synthetic grass uses. Its LiteEarth and AvTurf products add capabilities for landfills and airport applications. Act Global a FIFA Preferred Producer for Football Turf, Synthetic Turf Council Certified Manufacturer, World Rugby Preferred Turf Producer, and holds an ISO 9001 certification. For more information visit http://www.ActGlobal.com.
ABOUT BONAR YARNS
Bonar Yarns specialises in manufacturing top-quality yarn for use in synthetic turf and woven carpet, and is one of the largest independent manufacturers with over a century of experience and expertise. For further information on Bonar Yarns, contact Sarah Stevenson at sarah.stevenson(at)bonaryarns(dot)com or 07801137701, or see the website http://www.bonaryarns.com.