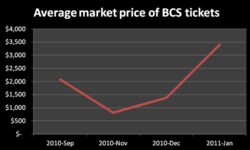 Ticket prices go ballistic by next year's January, peaking in the $3,000-$4,000 range
Carlsbad, California (PRWEB) October 28, 2011
As reported by LATimes.com, the line-up for this year's Bowl Championship Series (BCS) has fallen into place. The Southeastern Conference (SEC) that has dominated the BCS Championship Bowl for a good part of its 13-year history has racked up three spots in the BCS with its constituent schools of Louisiana State University (LSU), Alabama and Arkansas. The first two, i.e. LSU and Alabama have clinched the top two standings with 0.9522 and 0.9519 ratings respectively. SEC members have already clocked seven wins out of the 13 BCS championship games that they have played.
The dual-pronged Oklahoma schools of the Big 12, the University of Oklahoma and Oklahoma State troop in next at the third and fourth spots at .9301 and .8568 respectively. Boise State Broncos of the MWC bucked their way to the fifth spot at .8027. The rest of the top-ten lot vying for a shot at the 2012 BCS bowl game constitute Wisconsin, Clemson, Stanford, Arkansas and Oregon.
The two big guns of the SEC, LSU and Alabama are both getting their sorties together for their Nov. 5 face-off in Tuscaloosa, with the Oklahoma boys gearing up to have a go at each other on Dec. 3rd.
Similar to last year's run, the release of this year's Top 25 BCS Rankings on October 16th has set the ball rolling for the build-up to the BCS Championship bowl. The secondary ticket selling website TicketNest.com is assertively speculating prices of BCS National Championship Bowl tickets to take-off during November and virtually break through the roof by January 9th 2012 when the BCS bowl game is scheduled to be played. As the effervescent representative of the ticket hawking site, Anastasia Lyman explains, "As the BCS narrows in on the top-ten teams during the months of October and November, the prices of BCS National Championship Bowl tickets start dipping below the $1000 level and after touching $750 mark in November, go ballistic by next year's January, peaking in the $3,000-$4,000 range. Hence before you have to give up that family vacation or take out a second mortgage on your home just to profit some ticket broker, it would prudent to purchase the BCS New Orleans tickets whilst they are still under a grand."
About BCS Championship Bowl
The BCS Championship Bowl was created in 1998 to be the final bowl game of the annual BCS in order to determine the top team of the NCAA Division I Football Bowl Subdivision.
###