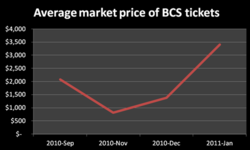 A decline to $1500 is usually seen during October and November, sky rocketing once again in December to $3500 per ticket
Carlsbad, CA (PRWEB) November 02, 2011
According to Associated Press, Alabama Crimson Tide have been named the favorites of BCS this season. Todd Fuhrman, a senior sports analyst from Caesars Entertainment remarked, "The Crimson Tide are the best team in the country". He further said "Their defensive line is improving day by day and their back sevens are among the best seen at collegiate level".
Bodog, the famous online entertainment brand reports similar news on the upcoming BCS Bowl. The list of favorites released ranks Alabama Crimson Tide at the top, followed by Oklahoma Sooners and LSU. Alabama have had a shining record in the past. They have a hold of 44-9-2 series including 23 – 10 over Ole Miss since last season.
The tickets market has seen a boost ever since the predictions of this season's BCS were announced. Anastasia Lyman of TicketMayor.com reported, "With the announcement of BCS favorites, the tickets sales have increased". Referring to the previous trends she said that the market price rises to about $2500 during September. A decline to $1500 is usually seen during October and November, sky rocketing once again in December to $3500. Thus, it is a wiser choice to purchase the BCS tickets during October and November.
Alabama Crimson Tide have won National Championship thirteen times, including last year's BCS Championship Bowl. With pro-football level line-up, majority of the experts are of the view that Crimson Tide will claim the championship this year as well. On the whole, Alabama Crimson Tide are up on 37.7 ppg with a total of 434.8 ypg, very impressive numbers for a well-balanced college offensive team.
About BCS Championship Bowl
BCS Championship Bowl comprises of five bowl matchups that involve top ten collegiate teams from the NCAA Division I Football Bowl Subdivision. BCS was first held in 1902. The top ten teams are selected through a voting system and computer ranking. The Series consists of four Bowl games and one National Championship Game. Tickets to BCS in New Orleans are now on sale.
###