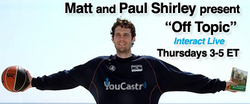 Off Topic with Matt and Paul Shirley
Boston, Mass. (PRWEB) September 18, 2008
YouCastr, the Live Interactive Sports Network, is pleased to announce that former NBA player and ESPN blogger Paul Shirley and his brother Matt Shirley have joined the YouCastr network to broadcast their online sports show "Off Topic with Matt and Paul Shirley."
Paul and Matt Shirley will be broadcasting "Off Topic with Matt and Paul Shirley" on Thursday's from 3-5 pm EST, starting September 18th. Fans of the Shirley brothers will now be able to listen to their witty perspective on matters of life and love, sports broadcasting , music and more. "Among other things, Matt and I look forward to interacting with frustrated and inquisitive daters and draw from our vast experience that spans the spectrum from ineptitude to relationship success," said Paul Shirley. Listeners will be able to interact with Paul and Matt during their show through YouCastr's live sports chat and they can also call-in to the show or email. "We are excited to have Paul and Matt Shirley broadcasting on the YouCastr network and I believe our listeners will enjoy the unique and entertaining sports commentary that drives the show," said Brad Johnson, YouCastr Co-Founder.
To listen to "Off Topic with Matt and Paul Shirley" and interact with Paul and Matt, go online to http://www.youcastr.com . All of "Off Topic with Matt and Paul Shirley" shows are immediately available after the live broadcast for playback or podcasting.
About Paul and Matt Shirley
Matt Shirley attended Colgate University in Hamilton, New York, where he played basketball and majored in International Relations, a degree for which he has yet to find any use. After a year of soul-searching, he began an ill-fated journey toward becoming a Spanish teacher. Along the way, he has blogged frequently; some of his comedic writings can be found on thephatphree.com.
Paul Shirley is best known for being a mediocre professional basketball player, a plight he wrote about in a book called Can I Keep My Jersey? (Random House, 2007). Paul has played for teams all over the world since he secured a seemingly useless Engineering degree from Iowa State University. In addition to the book, he has written for ESPN.com, Slate.com, and Esquire magazine.
About YouCastr
YouCastr, the Live Interactive Sports Network, is revolutionizing the way fans experience their favorite sports by building on new and emerging technologies to create a real-time, interactive, global sports broadcasting platform. YouCastr allows anyone, anywhere to broadcast live sports commentary and interact with other sports fans, quickly and easily--it takes only a minute or two to create an account and begin broadcasting. For more information or to try YouCastr, visit http://www.youcastr.com.
Contact:
Ian Hughes
YouCastr Corporation
ihughes @ youcastr.com
617-968-3624
# # #