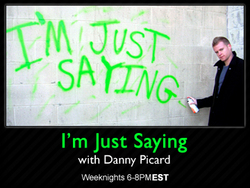 There are many great sports radio stations and talk shows across the country, but very few focus on a younger demographic
Boston, MA (PRWEB) January 15, 2009
YouCastr is proud to announce the launch of its newest show - "I'm Just Saying" with Danny Picard - a worldwide sports talk show that brings a fresh new voice to online sports talk. Through different segments and many high-profile guests, "I'm Just Saying" will create a unique perspective that connects to a younger demographic than traditional sports-talk radio shows. "I'm Just Saying" will air weeknights from 6-8 p.m. ET, exclusively on YouCastr.com.
"We want to reach out to a new audience," said Picard, a former Boston sports talk radio host, who currently covers the Boston Bruins for the Boston Globe's OT magazine and for New England Hockey Journal. "While most radio stations try to attract online users by streaming their existing content, our goal is to focus exclusively on building a passionate and loyal online audience."
Listeners to the show will be able interact with Picard, his producer, and with each other through YouCastr's live-chat and live polling functionality. Listeners can also call in directly to the show on their toll-free number.
YouCastr Co-Founder Brad Johnson is excited about the new show, "There are many great sports radio stations and talk shows across the country, but very few focus on a younger demographic," said Johnson. "We believe Danny's unique style will appeal to YouCastr's fast growing base of viewers and listeners, as well as others who are looking for something new in sports talk."
"I'm Just Saying" is broadcast live weeknights from 6-8 p.m. ET at http://www.youcastr.com, and previous shows are also available for playback and podcasting. New England radio station WBNW 1120, will be syndicating "I'm Just Saying." Dave Cullinane, WBNW Assistant General Manager, said "WBNW 1120 is pleased to be part of this innovative show and sharing it with our listeners." If you would like to syndicate "I'm Just Saying," please contact YouCastr.
About Danny Picard
Danny Picard serves as the host of "I'm Just Saying" - a two-hour sports-talk internet show dedicated to bringing a new perspective to sports fans. Piccard is joined by his longtime producer/personality, and fellow South Boston native, Adam Jenness. Picard is also the Boston Bruins beat writer for The Boston Globe's weekly sports magazine - OT. Picard has extensive experience in sports broadcasting and is a 2007 graduate of The University of Massachusetts-Amherst, where he served as the sports editor and a sports writer of The Massachusetts Daily Collegian. He is best known for breaking the news regarding Roger Clemens' return to baseball in 2006 for the school paper. You can read more from Picard on his blog.
About YouCastr
YouCastr, the live interactive sports network, is revolutionizing sports broadcasting by making it simple to broadcast high school sports and college sports on a live, interactive, global sports network. YouCastr allows anyone, anywhere to broadcast sporting events and interact with other sports fans, quickly and easily--it takes only a minute or two to create an account and begin broadcasting. For more information or to try YouCastr, visit http://www.youcastr.com.
###