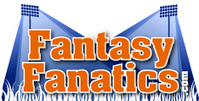 The Weekly Rankings Contest is a staple of FantasyFanatics.com
Nashville, TN (PRWEB) September 18, 2007
Carson Palmer threw for 400 yards and six touchdowns. Cleveland quarterback Derek Anderson notched 328 yards and five touchdowns. In the world of fantasy football, their performances were good for 39 and 32 points in a standard Yahoo fantasy football league, respectively. Tampa Bay's Joey Galloway found the end zone twice, racking up 25 fantasy points. Don't forget the Texans' Andre Johnson, who racked up 24 fantasy points and is over 40 on the season. These stats illustrate what makes fantasy football so appealing: Just like in football, on any given Sunday, anyone can win. FantasyFanatics.com, the premiere fantasy football forum, has taken this to heart and introduced the Weekly Rankings Contest.
Playing the FantasyFanatics.com Weekly Rankings Contest is easy. Just rank your Top 10 quarterbacks, wide receivers, and running backs based on how you think they'll do in a standard Yahoo scoring fantasy football league for the coming week. You will receive 100% of the Fantasy Points scored by the player you rank first on your list for each position (QB, RB, and WR). You will receive 90% of the points scored by the player you rank second, 80% for the player you rank third, 70% for the player you rank fourth, 60% for the player you rank fifth, 50% for the player you rank sixth, 40% for the player you rank seventh, 30% for the player you rank eighth, 20% for the player you rank ninth, and 10% for the player you rank tenth.
So if you rank Chad Johnson as your sixth best fantasy football receiver this week and he scores 20 fantasy points, you will receive 50% of those points (or 10 points). If you ranked Drew Brees as your 10th best QB for the week and he put up 17 fantasy points, you would receive 1.7 points. "The Weekly Rankings Contest is a staple of FantasyFanatics.com," said President Cal Spears. "The ability for anyone to win each week adds to the excitement."
Your total points for QBs, WRs, and RBs will be added up to get your total score for that week. Whoever has the highest total is that week's winner. Each week's winner will receive a $50 Amazon Gift Card. The yearly winner will receive $500 cash and FantasyFanatics.com fame! For the yearly contest, only your top eight scores are counted, so it's not too late to get in on the action. Spears adds, "The fame that comes with winning the fantasy football weekly rankings contest does not go unnoticed on FantasyFanatics.com."
Jimmy "Jims14" Smith emerged victorious in Week 2 on the heels of strong outings by Rudi Johnson, Chad Johnson, and Carson Palmer. Smith placed all three Bengals at the top of his weekly rankings, propelling him to a Week 2 title. The 20th place finisher was within 20 points of the leader.
The Weekly Rankings Contest is only open to members of FantasyFanatics.com and joining the site is completely free and easy to do. While you're there, check out the fantasy football forum. Visit FantasyFanatics.com and play now!
###