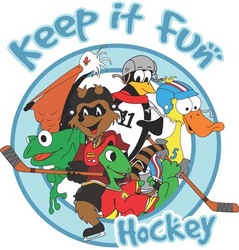 Hopkinton, MA (PRWEB) December 3, 2008
Keep It Fun™ (http://www.keepitfun.net) apparel celebrates the reason individuals participate in amateur sports- for the FUN. Moreover, Keep It Fun's new fundraising program empowers sports organizations to leverage the web and their members' social networks to raise money while evangelizing an important message. As a result, Keep It Fun offers a unique solution for organizations and the families they serve.
Founded by two coaches with a collective 40 years experience, Keep It Fun addresses two profound issues in the world of amateur athletics: the misimpression of excess negativity and increasing costs during challenging economic times. By addressing these issues simultaneously, Keep It Fun offers a unique solution for organizations and the families they serve to evangelize an important positive message while tapping into innovative, web-based fundraising opportunities.
Keep It Fun™: A Positive Beacon in an Occasionally Out-of-Control World of Amateur Sports
With so many negative news stories on sports situations where things have gone terribly wrong, it is oftentimes overlooked that the vast majority of sports participants experience life-changing enrichment from the games they play, coach and cheer. To counter this negativity and the occasional examples of out of control behavior, Keep It Fun™ casual apparel delivers age-appropriate offerings that celebrate the sports experience, and inspire the true reason individuals participate in amateur athletics- for the FUN.
Keep It Fun is already hitting a nerve. Click on the embedded video above to see what two Versus Network commentators recently had to say about Keep It Fun™ during a live NHL telecast.
"As coaches, parents, and players, no matter how committed we may be to doing the right thing, occasionally our emotions get the better of us", notes Mike Correa, Keep It Fun co-founder. "As long as it's fun, good things happen--regardless of what the scoreboard or standings might suggest." Mike continues, "Starting with the Keep It Fun Pledge and continuing with our innovative designs, Keep It Fun's vision is to become a billboard that's proudly adorned by people who believe and live the message."
eFundraising: Tapping Into Easy, Fast, Web-based Fundraising Opportunities.
The second issue Keep It Fun addresses is the fiscal pressure organizations face as they fight rising costs while attempting to keep tuitions affordable. In most organizations, fundraising efforts have become a lifeline rather than a luxury. Yet, it has become painfully clear that the same old solutions are losing their affect.
"During any given season in my home we have multiple children on multiple teams being required to sell enough stuff to raise at least $100 for each team", observes Mike Kozub, Keep It Fun co-founder. "Of course, it's usually stuff nobody wants that every other kid in the neighborhood is also trying to sell. Some seasons we end up cutting three to five $100 checks! These fundraisers end up actually becoming second tuition bills."
With eFundraising, Keep It Fun facilitates the process sending an email to an organization's members. This email contains a unique coupon code offering significant savings on KeepItFun.net purchases. Members are encouraged to forward this email to friends and family they believe would be interested. As the "network effect" plays out, sales rack up from within and outside the organization's geography. For every dollar of sales under the coupon code, the organization earns a substantial percentage back from Keep It Fun. The result- with less than one hour's work, organizations can offer unique, relevant and meaningful products AND access fundraising channels outside their traditional limited geographies. And no more "2nd tuitions"!
About Keep It Fun
Keep It Fun™ casual apparel is igniting a revolution that reinforces the positive and inspires the true reason individuals participate in amateur athletics- to have FUN. Keep It Fun's vision is to become a billboard that's proudly adorned by people who believe and live the message.
Keep It Fun's inaugural line is comprised of 3 collections targeting the amateur hockey community:
Hockey Animals brings light-hearted characters to the 10-and-under players... reminding them that everybody brings something unique and special to the team.
Dinosaur Hockey celebrates the burning passion that adult hockey players have for the game despite the late nights and the realization that their bodies (and wives) are pleading for retirement.
Keep It Fun™ Branded line for men, women and children proclaims the real reason why we play, coach and cheer.
Finally, Keep It Fun™ Labs dramatically expands the Keep It Fun offering across multiple sports and a wider range of apparel styles for men, women, children and toddlers. There are also a multitude of stickers for the "family sports taxi" available. The approximately 500 (and growing) products in Labs are made to order by partners via state-of-the-art, on-demand digital printing technology. Via Labs, Keep It Fun plans to gauge which product concepts are the most popular and worthy to be entered into the Keep It Fun™ line which is stocked and shipped from its warehouse in Chicopee, MA.
Stay tuned, Keep It Fun will soon expand across additional sports and offer exciting original concepts targeting middle & high school athletes. There are also plans to incorporate compelling web technology within KeepItFun.net to bring like-minded people together to make the amateur sports experience even more enriching.
###