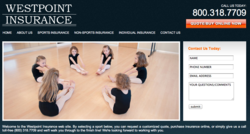 Bridgeview, IL (PRWEB) July 05, 2012
Executives at WESTPOINT INSURANCE have announced the launch of their new innovative website located at http://www.westpointinsurance.com. This dramatically redesigned site reflects the online insurance brokers forward-thinking visions and commitment to customer information, product descriptions, and competitive online pricing platforms.
WESTPOINT INSURANCE, now in its eighteenth (18th) year of doing business from its Chicagoland headquarters, has maintained a solid vision for providing the finest of all products available relating to sports insurance: general liability & accident medical insurance for teams, leagues or associations as well as special event insurance, dance studio insurance, martial arts studio insurance, kids sports and non-sports camp insurance, sports facilities insurance, sports team insurance, sports league insurance, and travel abroad insurance plans.
WESTPOINT INSURANCE delivers exceptional value to consumers, sports insurance brokers and agents. We provide them with timely, accurate, and easy to understand information on different types of amateur sports and recreational special event insurance programs, as well as, individual insurance products so that shoppers can make highly informed buying decisions, resulting in significant savings of time and money.
The website revamp has been a well thought out endeavor, with many months of attention to detail. We looked at every detail through the customers eyes in an attempt to make the site as user-friendly as possible. This has led to a complete recreation of the site, updating its navigational structure, content, visual elements and social structure while including options and abilities for users to quickly find the information they need and easily fill out online quote requests, which are responded to immediately. We believe in providing accurate information and have made a significant effort to make the process of finding and purchasing individual travel insurance, team sports, recreational sports venues and facilities easy, convenient and affordable.
About WESTPOINT INSURANCE
WESTPOINT INSURANCE, first founded in 1994, provides complete packages for amateur sports insurance needs and the individual travel market and is an A+ rated company with the Better Business Bureau in Chicago and surrounding communities.  WESTPOINT INSURANCE has a commitment to excellence working only with insurance providers who have a rating of A or higher.
For more information please visit: http://www.westpointinsurance.com