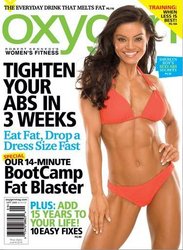 Sherlyn Roy brings a fresh perspective and energy to Instructional Fitness. She is an IFBB Professional and Certified Personal Trainer with a wealth of knowledge. Although her passion for fitness serves as an inspiration to both male and female audiences, her background and experience will serve our female audiences extremely well. We're excited to have join our team
Los Angeles, CA (PRWEB) September 25, 2009
http://www.InstructionalFitness.com has signed bodybuilder Sheryln Roy as a spokesperson for the company and its brands. Sherlyn has been a fitness enthusiast for several years. She received her Pro Card this year and is competing on the grand stage of the Olympia as a Figure Competitor.
During her rookie year on the professional circuit, Roy received a prestigious invitation to compete in the 2009 Arnold Classic, was on the cover of September's issue of Oxygen Magazine, and will be competing among the best in the world in this weekend at the Ms. Olympia Figure competition. She is an IFBB Professional and Certified Personal Trainer.
InstructionalFitness hopes to reach more women by adding her to their team of professional trainers. "Sherlyn Roy brings a fresh perspective and energy to Instructional Fitness. She is an IFBB Professional and Certified Personal Trainer with a wealth of knowledge. Although her passion for fitness serves as an inspiration to both male and female audiences, her background and experience will serve our female audiences extremely well. We're excited to have join our team," said Peter Mikhail, President Instructional Fitness.
As a spokesperson, Roy will Joe Tong in adding expert content to the site and blogs. She'll be featured in videos, provide workouts, and answer questions from the community. Also look for her interviews of celebrities, athletes and personalities around LA. Her interviews will reveal insider information about their workouts, nutrition and how they stay in shape.
Roy heads to the Ms. Olympia competition in Las Vegas this weekend. Watch the home page of the site for an exclusive interview with her after the event.
About InstructionalFitness.com
InstructionalFitness.com was conceived by Certified Personal Trainer and competitive body builder Joe Tong, and fitness enthusiast and cancer survivor Peter Mikhail.
InstructionalFitness.com is a fitness website with valuable information on reaching your fitness goals. Get nutrition and supplements, find a gym or personal trainer that fits your needs. InstructionalFitness is a one-stop shopping destination with a marketplace and carries supplement and nutrition products from retailers.
Retailers who want to add their products to the Instructional Fitness marketplace can contact us here: http://www.instructionalfitness.com/contact.php
Media Contact:
Sally Bemis
(949) 215-8984
To learn more about sports nutrition & supplements see http://www.InstructionalFitness.com
# # #