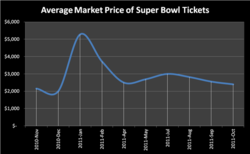 This year we decided that the fans should be allowed to be a part of Super Bowl off-screen live events.
Carlsbad, CA (PRWEB) October 14, 2011
Super Bowl's history will soon be witnessing a first as the Media Day opens for the fans. The Associated Press recently reported that the NFL for the first time will be allowing the fans to be present on the Super Bowl Media Day and will be selling 5,000 tickets. Priced at affordable rates, these tickets will allow the fans to be present at Lucas Oil Stadium on 31st January 2012. Ticket holders will get to see live interviews, being conducted by some 3,000 top notch media personnel.
While talking to the media, Frank Supovitz, the senior vice president of Super Bowl events said that the league had been considering the idea for quite some time. "This year we decided that the fans should be allowed to be a part of Super Bowl off-screen live events." He also announced that the super bowl tickets will be affordable and will be available in early December.
As Super Bowl is the biggest football championship in the U.S., its tickets sales touch the sky immediately after being out in the market. According to the representative of Ticketnest.com Anastasia Lyman, Super Bowl tickets start selling way before the event but the highest sales are recorded in January. "With the increase in demand ticket price rises to as much as $5,000." She added that the news of Super Bowl Media Day has generated a buzz in the market. "Fans are already calling in for advance tickets and the news of reasonable prices is a treat for those who can only afford cheap Super Bowl tickets."
Super Bowl organizers have taken a fine step by allowing the fans into the Media Day. This will give the masses of fans an opportunity to enjoy this mega event in more than one ways.
About Super Bowl
Super Bowl is the biggest professional football championship in the United States which takes place early in the year. Since 1967, 45 Super Bowls have been held till 2011, determining the winning team of the previous year. Super Bowl XLV was played on 6th February 2011 with Green Bay Packers as the winning team, beating Pittsburgh Steelers with 31-25. Super Bowl XLVI is scheduled to take place in February 2012 in Indianapolis. The winner of Super Bowl at Lucas Oil Stadium will get the Vince Lombardi Trophy.
###