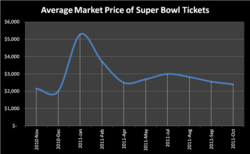 Last year the prices went up to a whopping $5,000 per ticket, so this is the right time to buy the tickets before the prices get too steep
Carlsbad, CA (PRWEB) October 26, 2011
Reigning champs of the Super Bowl, Green Bay Packers and Atlanta Falcons have been involved in rifts over the past year, and have had dramatic encounters this season. Both the teams have exchanged more than just the ball. According to NBC Sports the clash last week further bruised the respect between the North and South Division teams. Players like the iconic Packers quarterback Aaron Rodgers, like in the past, once again used harsh words against the boys from Atlanta. Things are really heating up between these two squads and the matter may worsen even further, much to the delight of NFL fans.
The Packers defender Ryan Pickett also talked about the dirty game by Falcons. Talking to the Milwaukee Journal Sentinel, Pickett said, "They really hate us. They were hitting us late after the play. There was some dirty play out there. We just kept our poise."
B.J. Raji, the fellow defensive lineman said that he was unimpressed by the game plan of the Falcons. "They have a long way to go," NBC Sports reported Raji saying this when he was asked if the Falcons are viewed as rivals by Packers. He stated that there can't be a real rivalry without meaningful games!
Falcons have some ground to cover now as they are on the edge of playoffs exit. On the victory by the double Super Bowl Champs, the Packers star defender Raji stated "Now that we abused them, for the second time in a row, at their home, there's nothing really to do."
Ticketsmate.com representative Anastasia Lyman has predicted an upsurge in the sales of Super Bowl tickets, thanks to this recent drama and fireworks, both, on and off field. She said, "We always have a great rush on tickets sales as soon as the teams for Super Bowl are announced but this year has been extraordinary." According to her the fans are lining up for the upcoming event and buying advance tickets, since the prices climb substantially in January as the Super Bowl gets nearer. Last year it went to a whopping $5,000 per ticket, so this is the right time to buy the tickets to the upcoming event before the prices get too steep.
About Super Bowl
Super Bowl is the title given to the championship game of the National Football League in the United States. It is regarded as the pinnacle of all American Football events and is held at the start of the next year, for the concluding season. This has been an eventful 2011 season; however, it's not over yet! An exciting finale awaits all the football fanatics at the Super Bowl at Indianapolis, which will be on February 5, 2012.
###