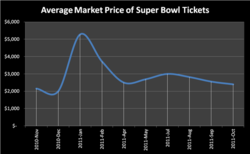 Prices tend to hike closer to the game and November to January will be an expensive time for the tickets
Carlsbad, CA (PRWEB) November 03, 2011
As reported by the Associated Press, Arizona claimed victory on the second ballot among the National Football League owners to become the Super Bowl hosts for the third time. Tampa Bay, the only other bidding candidate was edged out by Arizona after they obtained a simple majority in the second ballot. Super Bowl XLIX is scheduled to take place in February 2015.
The news was celebrated by Arizona Cardinals President, Michael Bidwill. He said, "We are delighted with the decision. Everyone worked hard to present a terrific package to the owners." He was also of the opinion that this could have a great impact on the economy especially during these tough times.
Tampa Bay Area had to face disappointment as the NFL once again bypassed them. During an interview Tampa Mayor Bob Buckhorn said, "We put up a good fight no doubt and it would have been great to host the city's fifth Super Bowl".
Addressing a press conference, NFL Commissioner Rodger Goodell said, "It was a difficult choice as both Arizona and Tampa Bay put together terrific bids. We had to keep rotation in place and that's where Arizona gained."
The other NFL teams' owners agreed that while both the cities were ideal for Super Bowl XLIX, Arizona's warm weather worked in their favor. The city has previously hosted the event as well and the turnout was spectacular. As reported by a secondary ticket selling website, TicketMayor.com, ticket sales were extraordinary for Super Bowl XLV held in 2011. Anastasia Lyman, a representative of TicketMayor.com said, "We are expecting a great demand for Super Bowl tickets to be held in Indianapolis. City's location always adds to its favor and sold out game is expected." She further stated that the tickets will be made available one year before the event and its best to buy them within the first few months. Prices tend to hike closer to the game and November to January will be an expensive time for the tickets. Of course the venue also matters and this time around, super bowl is going to be played at Lucas oil Stadium.
It is also a major boon to the local business and will add significant value to the community.
About Super Bowl
Played annually, Super Bowl is the championship game arranged by the NFL. The day on which Super Bowl is played is declared as the national holiday in America and called "Super Bowl Sunday". The first championship took place on January 15, 1967. This year get ready to catch the Super Bowl in Indianapolis.
# # #