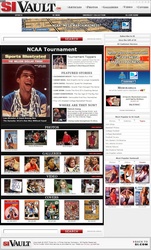 Passionate sports fans engage in debate, trivia and comparison of one generation to another so for those fans SI VAULT will be an invaluable resource of information.
NEW YORK (PRWEB) March 20, 2008
The VAULT breaks new ground. In addition to offering the 150,000 stories, 2,800 covers and 500,000 photographs from the pages of SPORTS ILLUSTRATED, SI VAULT unlocks sports history (players, teams and sports) with new search capabilities that link video clips (powered by Truveo), blogs and user-generated content (Wikipedia sports encyclopedia) -- as well as collectibles and memorabilia from across the Web (eBay). This is not a static archive.
"This is an opportunity for SI to weave historical perspective into the daily conversation of sports," said Paul Fichtenbaum, Managing Editor, SI.COM. "Passionate sports fans engage in debate, trivia and comparison of one generation to another so for those fans SI VAULT will be an invaluable resource of information."
SI editors will curate the site daily to reflect current issues and topics, refreshing editorial themes within historical context and perspective as breaking news warrants. By doing so the SI VAULT will enable sports fans to relive great historic stories and performances as they relate to the games and moments that matter most now.
"The SI VAULT is a gateway for sports fans in their journey to enjoy their favorite sports through content from the modern sports era as well as video. By combining SI archives with cutting-edge technology, web tools and sport functionality search capability we have created a destination that will grow through the active participation of site visitors and through search engine discovery," said Jeff Price, President, SI DIGITAL.
DirecTV is the official launch sponsor of the VAULT, which will attract millions of sports fans to a single destination where they can relive great memories and fuel their passion for modern-day sports. It will be the place to settle arguments, answer trivia questions and weigh in on debates of the day. Features of SI VAULT include:
-- For the first time sports fans will have access to all SI archives - articles, photos, covers and SI.com;
-- Video search capabilities powered by Truveo;
-- A Wikipedia component where fans can contribute memories, useful information, etc.;
-- Cover-to-cover interactive views of SI issues 1954-1995 available immediately with remaining issues soon to be installed;
-- Capability to search by name, sport, year, decade, team and more;
-- eBay technology will link to popular memorabilia related to specific search topics;
-- Contextual links between SI.COM and SI.COM/VAULT;
-- Daily updates of SI.COM content and weekly updates of magazine content.
THE VAULT is also a case study in technological innovation. SI partnered with Turner Digital for the site's construction which included converting volumes of print material into a universal digital template that would foster maximum flexibility in packaging and presentation. Because of the dynamic nature of the site (SI will continually update it with SI.com and weekly issue content) Turner developed a sophisticated content classification system that will support an infinite amount of site searches.
About The SPORTS ILLUSTRATED GROUP:
The SI Group is the most respected voice in sports journalism and delivering the best coverage in the business, reaching a weekly audience of nearly 25 million adults. SI DIGITAL is home to SI.COM, DANPATRICK.COM, FANNATION.COM, TAKKLE.COM, SIONCAMPUS.COM, SI MOBILE, mySI and SI ON DEMAND. The SI GOLF GROUP is the number one golf media company, reaching users daily, weekly and monthly through GOLF MAGAZINE, SI GOLF PLUS and GOLF.COM. The SI GROUP also includes SPORTS ILLUSTRATED KIDS (http://www.sikids.com), SI BOOKS and SI EVENTS. Founded in 1954, the SI Group is a division of Time Inc., the world's leading magazine company and a subsidiary of Time Warner.