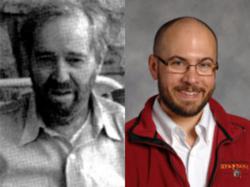 These pastimes inspired deep reflections on such topics as the role of parents in sports, religious aspects of sports, and the personal meaning of victory and loss. The emotional range was wide.
Northampton, MA (PRWEB) November 15, 2012
Winning Writers is pleased to announce the results from its 2012 Sports Poetry & Prose Contest. Starkey Flythe of Augusta, Georgia won first prize for poetry for "State Champ". Scott Winkler of Casco, Wisconsin won first prize for prose for his story "The Kicker". Each received $1,500.
"State Champ" perfectly balances passion and upper-crust restraint in a psychological study of a doctor's wife who channels her frustrations into excellence on the golf course. She's made her peace with how the game is played, from fudged scores to infidelities, but she has few illusions left.
"The Kicker" takes place during the crucial last seconds of a football game. Even though the outcome of the game is in question, the narrator's flashbacks to the personal challenges in his life—in particular, his suspicion-ravaged marriage—are equally suspenseful. Written in numbered paragraphs with no transitions, similar to a prose-poem in its associative leaps, the unusual style of this tale enhances the effect of time suspended in the balance.
288 entries were received from around the world. They were judged by Jendi Reiter—award-winning author of the poetry collections Barbie at 50 (Cervena Barva Press, 2010), Swallow (Amsterdam Press, 2009), and A Talent for Sadness (Turning Point Books, 2003)—and Ellen LaFleche, an accomplished writer and editor whose publications include the prizewinning poetry collections Ovarian (Dallas Poets Community, 2011) and Workers' Rites (Philbrick Poetry Award Series, Providence Athenaeum, 2011).
The judges said, "We were thrilled to see how many sports were covered, from single-person sports such as running, biking, and rock-climbing, duel sports such as boxing and fencing, and team sports ranging from roller derby to soccer, rowing, football, baseball, and basketball. These pastimes inspired deep reflections on such topics as the role of parents in sports, religious aspects of sports, and the personal meaning of victory and loss. The emotional range was wide, spanning humor, inspiration, nostalgia, and personal and political struggle. We gained new appreciation for our favorite sports and learned something about many others."
In poetry, Harry Bauld of Bronx, New York won second prize and $500 for "Late Round" and "Boxer". These fierce, melancholy lyric poems depict the pain and joy of giving your all to a sport that destroys your body. Both poems are written in couplets, as befits a duel sport like boxing—one in slant rhyme, the other in the challenging Persian form known as the ghazal.
Second prize of $500 for prose went to Candace Jaffe of York, Maine for "The Weight of Silver". This essay artfully interlaces storytelling and research findings to create a memorable inquiry into the psychology of almost-winning. With a strong narrative through-line and a wide-ranging yet cohesive argument, this entry epitomizes how to structure an essay that engages both the intellect and the emotions of the reader.
Eleven honorable mention awards of $100 were also made, bringing the total to $5,100. Read the winning entries online.
About Winning Writers, Inc.
Winning Writers is today's leading source for literary contest information. We have been selected as one of the "101 Best Writing Websites" by Writer's Digest for eight years in a row (2005-2012). Our online database, Poetry Contest Insider, includes complete guidelines and rankings for over 1,250 poetry and prose contests. Our free email newsletter offers news about quality free contests and literary resources. Winning Writers sponsors two annual contests, the Sports Fiction & Essay Contest and the Wergle Flomp Humor Poetry Contest.
Winning Writers was founded in 2001 by Jendi Reiter and Adam Cohen. Learn more at http://www.winningwriters.com.
###