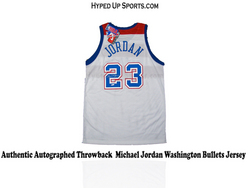 This is a great opportunity to make memorabilia unique and special
Billings, MT (PRWEB) February 14, 2008
Hypedupsports.com is offering its customers an opportunity to send memorabilia to Upper Deck for their top athletes to autograph. These exclusive athletes include Tiger Woods, Michael Jordan, Lebron James, Kobe Bryant and Kevin Durant.
"This is a great opportunity to make memorabilia unique and special," said Cody Rose, CEO and founder of Hyped Up Sports. Every item signed will be witnessed by an Upper Deck representative and authenticated immediately. To take advantage of this program, the customer has to email hypedupsports @ yahoo.com, log onto http://www.hypedupsports.com, or call 406-697-9188 and give a description of the item that they would like signed. This is done so Hyped Up Sports can verify that the collectible will be on the athletes signing schedule. Then a private checkout page will be issued to the customer along with all of the shipping information. The tentative signing schedule for Michael Jordan is late February. Lebron James, Kobe Bryant and Kevin Durant are set for spring, either April or May. Tiger Woods is set for late July. An exact date is not issued because the athletes have their own schedules.
Tiger Woods, Michael Jordan, Lebron James, Kobe Bryant and Kevin Durant are able to sign any piece of memorabilia. A few of the popular items include jerseys, balls, cards, photos and paintings. Product availability is extremely limited so customers need to act fast if they wish to take advantage of the program. Hypedupsports.com has already begun receiving orders.
Hypedupsports.com is a new online business out of Billings, MT, that deals with rare and authentic sports memorabilia. CEO, Cody Rose, has 12 years experience dealing with collectibles and recently became affiliated with Upper Deck. Through their partnership with Upper Deck, http://www.hypedupsports.com has taken its business to another level. Their website, and online marketplace, features hundreds of authenticated autographed memorabilia. This is quickly becoming the number one site for collectors and fans alike.
###