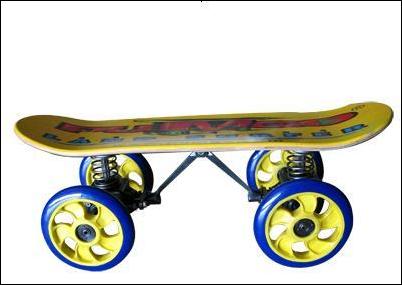 New York, NY (PRWEB) November 20, 2006
Surfing is an instinct expression of many people and dream of even more people. The skateboard was invented to bring the ocean to your back yard and give you part of those magnificent feelings. PUMGO, the latest sports toy, allows you to drive and steer it by your feet without pushing against the ground and gives you a strong feeling of surfing on land. Also PUMGO is one of the most unique new items you can get for $99 in this holiday season. Please watch Pumgo videos at http://www.pumgo.com.
The way PUMGO works is simple: the rider shifts his or her weight from the front of the board to the rear, in a motion similar to a seesaw. When repeated, this motion drives the gears and propels the board forward. PUMGO's patented 4-Wheel-Drive and all-wheel steering system give the rider control. No skateboarding experience is needed, and most riders learn how to ride PUMGO within a few minutes.
The best part of riding PUMGO just may be the exercise benefits it offers in the guise of entertainment. Also it is not just for children. Anyone over 7 years-old and adults can ride PUMGO.
With more than 22 million people across the country who actively participate in surfing, skateboarding or snowboarding (according to American Sports Data), PUMGO fills a year-round craving for those people.
Pumgo recently was featured on CBS News, Washington Post, Washing Times, Time Magazine For Kids, Atlanta Journal Constitution, Boys' Life, and Sports Illustrated For Kids.
Please visit your local Modell's or Dunham's sporting goods stores to buy PUMGO. If you are in New York, you can get it at FAO Schwarz toy store. All the major sporting goods stores (including The Sports Authority and Dick's Sporting Goods) sell PUMGO at their online stores. Discovery Channel online store also features PUMGO.
About Land Surf Inc.
Land Surf Inc. is located in Atlanta, GA. Land Surf Inc. owns PUMGO technology and is the only company manufacturing and distributing PUMGO in the world.
Land Surf Inc.
120 Interstate North Pkwy
Atlanta, GA 30339-2103
1-888-PUMGO-4U
###