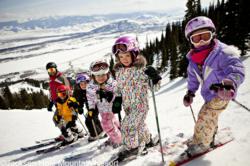 Multiple resorts where kids ski and fly for free
(PRWEB) February 06, 2013
Ski resorts all over the west are offering deals for spring break ski vacations. With these deals ski vacations can become affordable, even with the kids. Resorts such as Steamboat, Keystone, and Copper are all offering kids ski free programs.
American Airlines is offering kids fly free into several airports close to major ski resorts. Airports such as Jackson Hole, Eagle, Aspen, Montrose, Gunnison, and Hayden are all included to help families save money while hitting the ski slopes this winter.
That gives consumers multiple resorts where kids ski and fly for free to choose from!
Winter travel expert, Cory Needham, at Sports America, has this to say about where the hot ski deals are for this year's spring break.
"With spring break on the horizon Keystone is my pick from both a kids and parents perspective. Keystone has created a winter wonderland for youngsters aptly named Kidtopia. Even as a parent your inner child cannot help but cut loose to live music at Dercum Square Ice Rink or 80's tubing night at Adventure Point. The list goes on to include the Snowfort but definitely do not miss out on Kidtopia Fireworks on Saturday nights. Sound expensive? Here is why Keystone gets my nod: Kids fly free into Eagle airport on American; Kids ski free all season; Keystone lodging discounts as deep as 50%. Keystone has created the perfect family getaway where you know the kids are safe having the time of their lives and you're off enjoying the beauty of Keystone or reveling in the joy of your children. At the end of the day, any way you cut it, Keystone is where I want to be."
Spring break is just around the corner and resorts are pushing for last minute bookings by offering a variety of complimentary components to add value to any family spring break ski vacation package. Sports America does not just offer spring break planning assistance but year round assistance for families booking their ski vacations to all of the major ski resorts in the western United States and Canada.
With whole sale contracts with resorts, lodging partners, rental cars companies, transfer companies, to airlines Sports America is able to soften the blow a typical ski vacation may cause to a families wallet. The goal is to get skiers the best bang for their buck. Thankfully for those booking last minute spring break ski vacations this has become easy with the variety of resorts offering such steep discounts for family travel.
About Sports America Tours:
Sports America specializes in ski vacation packages throughout western North America. Whether you're planning a ski vacation for a group of friends, a company meeting, or a family vacation, one of our vacation experts will help design your perfect package. Our special contract airfares, tour operator lift tickets, special rental car/transfer rates all save you time and money. Knowledge, excellent customer service, friendly staff, great pricing, and the highest quality ski vacations since 1975. http://www.SportsAmerica.com