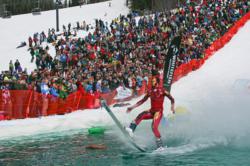 discounts up to 50% off what people pay during peak season
(PRWEB) February 20, 2013
The end of ski season is known to be a party at ski resorts. From large après events, pond skimming, spring skiing, retro ski days, concerts, cook offs, and so much more. However this is one of the least busy times of the year at the resorts for ski vacations, as people seemed to have switched from the mind set of vacationing in the snow to the sand.
For the avid die hard skier the lack of interest by the general public benefits them, as it leads the resorts to slash their lodging prices and offer discounts up to 50% off what people pay during peak season. This allows for a great money saving opportunity.
For the skier who likes to ski all day with no lines the public's lack of interest in spring skiing also opens up the slopes and leaves resorts with minimal to no lift lines, even on the weekends.
People who are more money conscious when planning their ski vacations are able to stay at properties they may not be able to during the peak of ski season. Differences in things like the quality of the unit but more influential is often the location.
Sports America Tours has found that clients who typically book in the winter months on shuttle routes to the slopes book ski in ski out properties during the spring as they become more affordable.
The drastic difference in price of a ski vacation depending on the time of the year also draws the consumers who are unable to afford a ski vacation during peak winter season to plan their ski vacations in the spring. Making a seemingly pricey hobby something to be enjoyed by everyone.
The benefits of booking a spring ski vacation are endless. Resorts host a multitude of events adding exceptional value to any vacation package, highly discounted lodging, and practically an empty mountain.
Whether looking for a way to save money while planning a ski vacation, experiencing ski resorts in a new light, upgrading what is typically in your budget, enjoying events hosted by the ski resorts, or simply finding a reason to party taking a spring ski vacation covers your needs. When planning your next spring vacation it may be worthwhile to compare the value of a snowy versus sandy destination. As the results may surprise you in the value that a spring ski vacation includes.
About Sports America Tours:
Sports America specializes in ski vacation packages throughout western North America. Whether you're planning a ski vacation for a group of friends, a company meeting, or a family vacation, one of our vacation experts will help design your perfect package. Our special contract airfares, tour operator lift tickets, special rental car/transfer rates all save you time and money. Knowledge, excellent customer service, friendly staff, great pricing, and the highest quality ski vacations since 1975. http://www.SportsAmerica.com