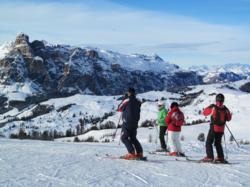 Offering new and innovative tools for the ski councils and clubs to use
(PRWEB) April 23, 2013
Sports America is looking forward to begin the planning of group ski packages for the clubs of the Crescent Ski Council at their annual spring convention April 25-28, 2013 at Myrtle Beach, South Carolina. They will also be announcing the details of their council ski trips planned for the 2013/2014 ski season.
The ski clubs that make up the Crescent Ski Council will be talking with resorts, properties, and ski tour operators to begin planning and shopping for their 2013/2014 group ski packages. The convention allows for a time and place where businesses that have employees all over North America can sit down and talk face to face.
Booking group ski packages this far in advance benefits the clubs in a variety of ways. First it ensures that there will be availability for the group. Beyond that most resorts are currently offering early booking specials to entice ski groups to book early and save money.
Ski Council trips are typically booked a year and a half in advance so the ski clubs can book their individual ski trips around trips the council already has booked. Sports America will be hosting three of the council's group ski trips for the 2013/2014 ski season.
The first trip will be to Steamboat, Colorado on December 7-14, 2014. This trip includes a race and ski camp and there are many participants of this trip who attend annually. The second group ski package the council is offering through Sports America is the January Ski week that will be held in Lake Tahoe January 11-18, 2014. Lake Tahoe makes for a great ski destination with a variety of resorts within approximately an hour radius. Lastly, the councils March ski week will be at Banff on March 15-22, 2014. This trip will run over the St. Patrick's Day holiday and during the peak of ski season which should result in a great party along with plenty of snow coverage on the slopes.
Along with hosting these three trips for the council Sports America will be announcing a new online registration capability for the Cresent Ski Council and various ski clubs. This online registration will help trip leaders organize sign ups, manage finances, and easily communicate with trip participants while storing all important information in one complete database.
Offering new and innovative tools for the ski councils and clubs to use is just one way Sports America continues to out preform their competitors in customer service. Sports America is looking forward to attending the conference and visiting the members of the Crescent Ski Council.
For more information please contact us at 1-800-876-8551 or info(at)sportsamerica(dot)com
About Sports America:
Sports America specializes in ski vacation packages throughout western North America. Whether you're planning a ski vacation for a group of friends, a company meeting, or a family vacation, one of our vacation experts will help design your perfect package. Our special contract airfares, tour operator lift tickets, special rental car/transfer rates all save you time and money. Knowledge, excellent customer service, friendly staff, great pricing, and the highest quality ski vacations since 1975. http://www.SportsAmerica.com